By Kayleigh DeMace on Dec 19 2016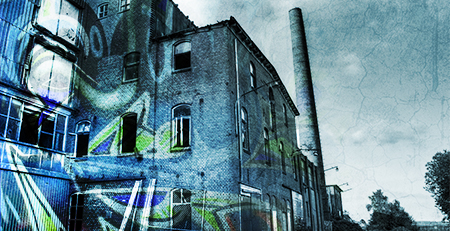 You don't have to go to Mars to experience living somewhere truly out of this world.
Industry really does shape the way some people live--for better or worse. You won't always find white picket fences across America, but where'd be the fun in that? We appreciate the diverse living situations across the very diverse towns throughout America.
Here are some of our favorite American industrial towns that are (probably) much different than your home town:
Whittier, Alaska
Can you imagine never having to leave the building you live in? Just send the kids through an underground tunnel to get to school and take the elevator up to your office. Need groceries? Just take a stroll to the other end of the building.
That's how residents of Whittier, Alaska live, and it's working pretty well for them.
Whittier used to be the location of old oil barrens back in the day, then the price of oil went down and the town saw a lot of new residents move in. People move there to get away from their old lives, and they really do love where they live.
Centralia, Pennsylvania

Once a prosperous coal mining town, Centralia is now home to less than 10 residents who did not leave after a coal mine fire began to burn beneath the town in 1962. The fires may burn for at least another 250 years.
At certain times of the year, you can see smoke coming out of cracks in the ground or road, which is a result of that underground mine fire. The old highway has cracked and buckled, and it is now abandoned and covered with graffiti from visitors. Because of that, it is now called Graffiti Highway. "
Most buildings in town have been demolished, but still a few homes stand. Those who still live in Centralia are there under the understanding that they can live the rest of their lives there, then their homes will be taken through eminent domain.
This near-ghost town was the inspiration of the popular video game and movie, Silent Hill, " as well as Strange Highways, " written by Dean Koontz.
Rhyolite, Nevada

In 1905, Rhyolite served as a mining camp for prospectors looking to, well, prospect. The area was a great stop for miners and gold-seekers, who flocked to the area in its prime. Many even settled there. In those days, the population was somewhere between 3,500 and 5,000.
So what happened? Well, the area was essentially drained of its resources. And it was drained quickly. By 1920, the population was nearing zero.
But the town prospered in a different way. It became a tourist attraction and popular location for films. Today, however, it's 100% ghost town. Many of the buildings burned down, one as a result of being hit by lightning, and others are crumbling ruins of their former glory.
Bonanza, Colorado

In the 1880, this town was the place to be. With saloons, dance halls, and a town baseball team, everything looked great to Bonanza residents. The silver mines were prosperous and the people happy.
Then, miners discovered that the deeper they went, the more difficult it became to mine; materials such lead, zinc, and copper were all they could find. By 1899, the population fell to near 100 people at least 400 less that it had in the past.
Later, in the early 1920s, mills were built for mining ore, but those closed by 1930. Seven years later, the town was nearly lost entirely to a fire. It was never rebuilt, but is still home to a little more than 10 people.
Green Bank, West Virginia

Absolute peace and quiet. No cell phones. No radio. Less than 150 residents.
That sounds crazy, right? Well, a place like this exists in West Virginia. Green Bank is the location of the Robert C. Byrd Green Bank Telescope, owned by the National Radio Astronomy Observatory and used by scientists to listen to the universe.
The area is a part of a 13,000-square mile National Radio Quiet Zone. This means that there can be minimal (well, no) interference from electronic devices, because it will interfere with the very faint signals of the galaxy. In the beginning, microwaves weren't even aloud in the town.
They even have a truck that drives through town and picks up signals from anything that can interfere with the telescope's readings. A few residents have Wi-Fi, and astronomers have adjusted by switching to different frequencies in order to avoid interference.
---
Sources:
http://www.cnn.com/interactive/2015/07/us/whittier-alaska-american-story/ https://en.wikipedia.org/wiki/Centralia,_Pennsylvania https://en.wikipedia.org/wiki/Rhyolite,_Nevada http://www.saguache.org/towns/bonanza/index.html http://www.cnn.com/interactive/2015/07/us/quiet-town-american-story/
---
All images in this post were altered from their original format.