By Sarah Simonovich on Jun 12 2018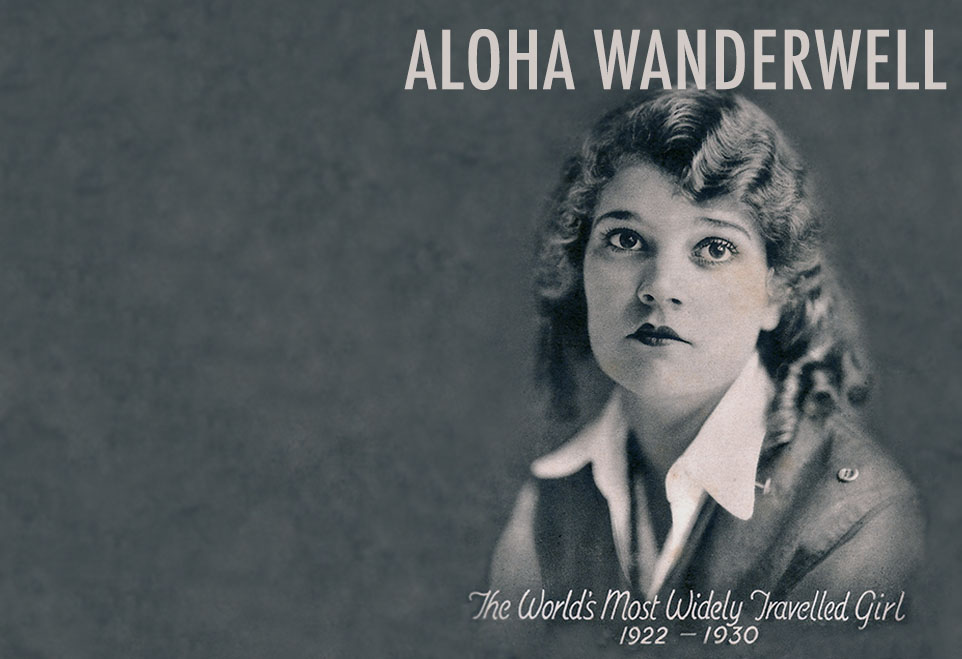 If Indiana Jones was real, he'd be a woman. More specifically, he'd be this woman: Aloha Wanderwell.
Aloha was quite unlike anyone else of her time. An explorer, vaudevillian, filmmaker, wife, and mother, she visited places her fellow Westerners had never seen before. Her story became legendary and inspired fictionalized romancing of her life.
Born on October 13, 1906, as Idris Galcia Welsh in Winnipeg, Manitoba, the travel bug bit her when she was still young. She was inspired by the fantastical tales she found in her father's childhood book collection. It was likely these stories that kept her going during her young life. Her father, a British Army reservist, was killed in action at Ypres in June 1917. The family, now comprised of Idris, her mother, and her younger sister, moved to Europe. A six-foot-tall self-described tomboy, " her restless spirit didn't fit in well with the convent's superiors and their idealized proper young lady.
And so she dreamed of adventure. And it didn't take her too long to find it.
In 1922, when Idris was just sixteen, a newspaper advertisement caught her attention:
"Brains, Beauty & Breeches World Tour Offer For Lucky Young Woman ... Wanted to join an expedition ... Asia, Africa ... "
Finding that advertisement in the Paris Herald changed her life forever.
Anyway, here's Wanderwell ...
Idris headed off to Paris and found Captain " Walter Wanderwell, former seafarer and world-class hiker and traveler. Wanderwell, a self-styled Captain, " was really a Polish national named Valerian Johannes Piecynski who had been briefly jailed in the United States as a spy during the war. He had begun an expedition with his then-wife Nell in 1919 to promote world peace and the League of Nations. They founded the Work Around the World Educational Club (WAWEC) and started their million dollar wager endurance race. "
The couple individually led competing teams on world tour expeditions, logging miles, selling souvenirs, and shooting motion pictures. By 1922, Nell's team was touring the US and Walter was making his way through Europe in a customized Model T.
When Walter met the young, adventurous spirit so full of charisma (not to mention she spoke four languages, a skill very welcomed on a worldwide expedition), he welcomed her to his team and christened her Aloha Wanderwell. "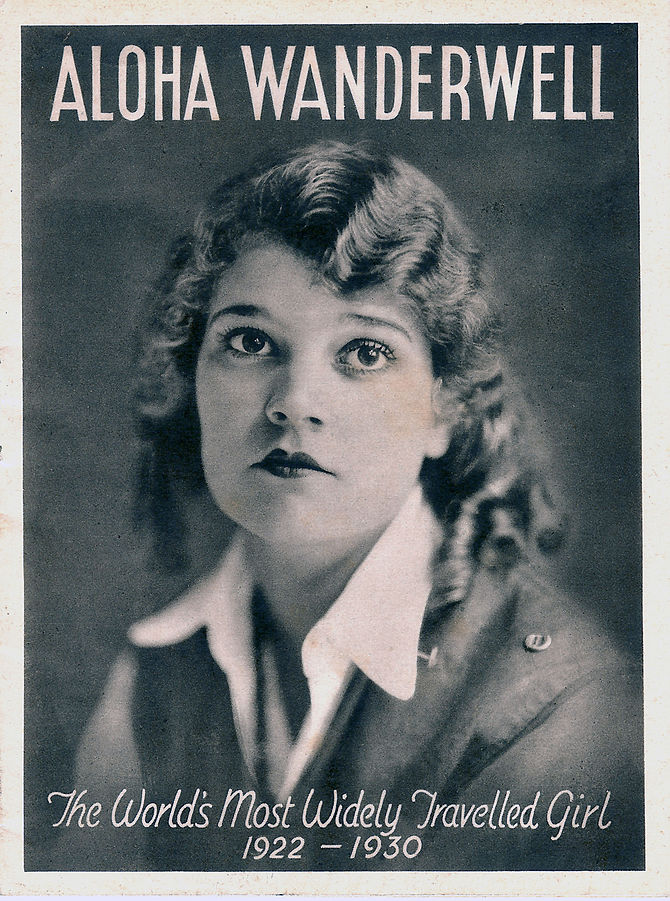 Aloha and the Wanderwell Expedition
Aloha, a tall, striking blonde with the brains, beauty, and breeches sought for in the Paris Herald ad, quickly became the star of the Wanderwell Expedition.
While on the road, she filled various job descriptions, including actress, photographer, cinematographer, driver, seamstress, laundress, film editor, vaudeville performer, salesperson, interpreter, negotiator, mechanic, and just about anything else that needed to be done.
They traveled around the world for seven years and saw 43 countries across four continents. They journeyed through France, Germany, Egypt, Palestine, Portuguese East Africa, Sudan, and China (just to name a scant few). The Ford Motor Company partially sponsored their trip and additional funds came from filming and travel lectures.
During the course of this adventure, driving around the world in the Model Ts, they really saw and did it all. Along the Great Wall of China, they were taken hostage by bandits and, according to Aloha, then let go when she showed them how to build a machine-gun nest and correctly work a belt-fed automatic weapon. She was in the background when King Tut's tomb was opened The Red Army of Siberia even granted Aloha the title of Honorary Colonel. " While in Calcutta in 1924, the expedition crossed paths with planes from the first aerial circumnavigation (Aloha filmed their meeting).
Driving On
In January 1925, their expedition brought them to the United States. During the course of their adventure, Aloha had fallen in love with Walter who divorced his first wife, Nell. The two married on April 7, 1925, in Riverside, California. Aloha and Walter had two children, a daughter, Valeri, and a son, Nile. The family continued their expedition to Cuba and South Africa. They faced difficult roads and an issue with gasoline and other automotive lubricants. While traveling through Africa from 1926-1928, they supposedly used crushed bananas for grease and elephant fat for engine oil.
---
Don't put your car through bananas and elephant fat... we carry high-quality greases and passenger car engine oils to keep things running smoothly no matter where you travel.
---
When they concluded their trek in 1929 and released their documentary, With Car and Camera Around the World, the Wanderwells became internationally-acclaimed explorers. The family made a home in Miami and fully intended on making future expeditions and future films. However, their plans were cut short in December 1932 when Walter was shot and killed by an unknown assailant on the couple's 110' yacht in Long Beach, California.
Even after her husband's death, Aloha Wanderwell never lost her wanderlust. She married former WAWEC cameraman Walter Baker in 1933 and continued to travel. She maintained a long and distinguished career as an explorer, documentary filmmaker, and lecturer, forever remaining Aloha Wanderwell, The World's Most Traveled Girl. "
Aloha died on June 4, 1966, in Newport Beach, California at the age of 90. Despite her relative obscurity at the time of her death, Aloha's films, photos, journals, and artifacts from her travels were and still remain quite legendary.
These are some of Aloha Wanderwell's achievements:
First woman to drive around the globe.
Drove 43 countries in a Ford Model-T.
Earliest films of the Bororo people of Brazil.
Traveled 380,000 miles to 80 countries in the 1920s.
First across India and Cape Town to the Nile.
First woman to fly Brazil's Mato Grosso.
Filmed the first flight around the world.
Member of the French Foreign Legion.
Films at The Smithsonian & The Library of Congress.
Women's International Association of Aviators.
Started Work Around the World Educational Club.
---
Sources:
https://www.alohawanderwell.com/