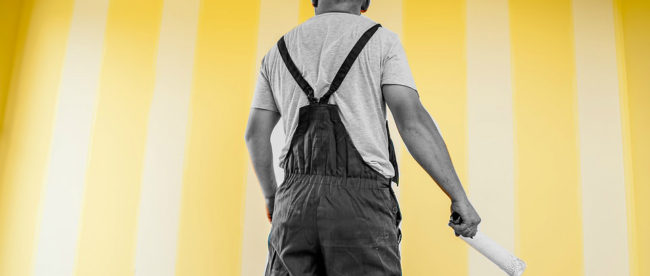 Good paint comes at a high cost.
What constitutes a good paint is a question we get all the time of course, it must be said that a good paint in one application may be a bad paint in another application. So, in short, application is key.
An equally important aspect of choosing the correct paint is taking into account the amount of Volatile Organic Compounds, or VOCs, present in the film. Paints low in VOCs are preferred for use inside and outside the home and in environmentally-conscious applications.
Painting inside and around the Home
If you are working on your property and (especially) inside your home, opting for a low-VOC paint is the ideal choice. While some paint companies market their brand as a zero-VOC paint, it's very difficult to know the exact number of potentially harmful solvents contained in a typical gallon pail.
Consumerreports.org tested several of these Zero-VOC " paints and found that ALL of them contained VOCs. While there is a government-regulated limit on how many VOCs can be present in paints (in this test, all of them passed), the faulty marketing of the brands suggests that you should be paying a bit more attention to what paint your buying and where you're buying it from. Some of these paints exceed $60 per gallon even though the relative difference in Volatile Organic content is potentially trivial.
Let it be said that most paint companies will do anything they can to breeze over the question of Volatile Organic Compounds to this day, researchers truly don't know how significantly higher levels of VOCs will affect our respiratory systems and other bodily functions. The only thing they'll say is that exposure to these compounds is not recommended. From 2009:
"Federal VOC limits are now set at 250 grams per liter (g/l) for flat paints and 380 g/l for others. Some states and regions have lowered the VOC levels for paints that can be legally sold in their areas. California's standards are stringent: 150 g/l for nonflat finishes and 100 g/l for flat. Even tougher is the 50 g/l level for all finishes set by California's South Coast Air Quality Management District (AQMD), around Los Angeles... "
Heavy-Duty Outdoor Paints
Painting the outside of your home, the fence posts, the deck, etc. is a huge decision. While there is nothing really holding you back from using an interior paint on your back deck, the chances are it won't even last the summer. Also, you must keep in mind color fading and gloss retention -- both of these inevitably occur at the hands of nature.
If you need to paint anything that consistently interacts with your soil, your water, or the wildlife on your property (think tractor, fence posts, patio furniture, lawnmowers, etc.), it is highly recommended that you again opt for a low-VOC paint. Many outdoor paints contain higher VOCs as a result of certain additives that are designed to make these paints retain color and resist fading and chipping. While these tend to last long, they are also less ideal to use outdoors.
Keep in mind, the surface that you are painting or substrate is a huge concern. While some paints are designed to handle wood and drywall, others may adhere better to metal. Metal surfaces are often exposed to rust formation and require a lot of maintenance to keep the surface untarnished. For these applications, there are special paints designed to adhere straight to the metal surface, barring any need for primers. While convenient, choosing the right one is key.
A good outdoor paint must prevent rust by sealing out air and water, while also providing the desired color. Furthermore, you would certainly prefer these paints to be low in VOCs due to the often off-road locations in which these paints are commonly applied.
Paints used in industrial and mobile applications may be the best choice you can go with. While most people will go to their local home improvement store to pick up paint, they may not have the ideal product for your application. These paints aren't necessarily conveniently sized (they come in 5 gallon pails), but they are designed to last for years on industrial machinery and are far cheaper than home improvement store-bought paints.
Compared to a gallon of $50 premium, outdoor paint, a $130 5-gallon pail is far more reasonable and may be stored for long periods of time. Best of all, the VOC levels are the same or lower. They may also be brushed, rolled, or sprayed onto your substrate.
While the selection continually grows and expensive marketing outshines the quality of the product, choosing the right paint is becoming increasingly more difficult. Keep in mind the two most important factors when choosing your paint this upcoming season: application and VOCs.
---
SOURCES:
http://www.consumerreports.org/cro/magazine-archi...