By Sarah Simonovich on Dec 05 2016

On Sunday, December 4, 2016, the U.S. Army Corps of Engineers denied Energy Transfer Partners LP a building permit for the section of the $3.8 billion pipeline project that runs under Lake Oahe in North Dakota.
For months, protesters have been fighting the project on the grounds that it could be hazardous and damaging to the water supply of the nearby Sioux reservation.
The project has had the green light since last September when Federal Court struck down opponents to block pipeline construction. However, the Justice Department, Interior Department, and U.S. Army Corps of Engineers have put up caution.
For now, Energy Transfer Partners LP has been denied a government permit for building the planned route under Lake Oahe, a Missouri Reservoir. Officials have stated that more work needs to be done on the projects and alternate routes must be examined. The 1,172-mile long proposed pipeline is already more than 90% complete.
Jo-Ellen Darcy, the Assistant Secretary for Civil Works, said in a statement:
The best way to complete that work responsibly and expeditiously is to explore alternate routes for the pipeline crossing.
Darcy has further said that consideration for alternate routes will be best accomplished through a thorough environmental impact statement with full public input and analysis.
Response to the government's decision varies, as to be expected.
The government's decision is a win for the Standing Rock Sioux Tribe who have been protesting against the pipeline for months. For many, however, celebration is occurring not without some reservation. While the pipeline isn't happening soon, this ruling does not prevent the pipeline from happening in the future. It might only be a temporary setback, as the future will come down to the environmental impact statement and the next presidency.
Supporters of the pipeline are speaking out against the ruling.
House Speaker Paul has spoken out against the decision and tweeted his criticism, calling this intervention "big-government decision-making at its worst. I look forward to putting this anti-energy presidency behind us."

North Dakota's House of Representatives member, Rep. Kevin Cramer (R.), has slammed president Obama and has pledged to fight against this decision:
I hoped even a lawless President wouldn't continue to ignore the rule of law. However, it was becoming increasingly clear he was punting this issue down the road ... Today's unfortunate decision sends a very chilling signal to others who want to build infrastructure in this country.
The Dallas-based company behind the pipeline, Energy Transfer Partners, slammed the Obama administration in a statement and have called the move political. Noting that the project already has court approval, they said the decision was "just the latest in a series of overt and transparent political actions by an administration which has abandoned the rule of law in favor of currying favor with a narrow and extreme political constituency."
In a statement made Sunday night, Energy Transfer Partners and Sunoco Logistics Partners said they "fully expect to complete construction of the pipeline without any additional rerouting in and around Lake Oahe."
More than Just a Pipeline?
On both sides of the DAPL fight, the stance is about more than just a pipeline. "
For protesters, it goes beyond the potential dangers of environmental impact. Part of the controversy also involves The Sioux Native American people of Standing Rock argue the pipeline has unearthed and will go on to disturb various ancestral sites, including stone circles and sacred ground. They also argue that the government took this land from them illegally in a series of treaties in the 1850s and 1860s. Native Americans have further accused the government of approving pipeline construction without consulting them, which is required under U.S. law.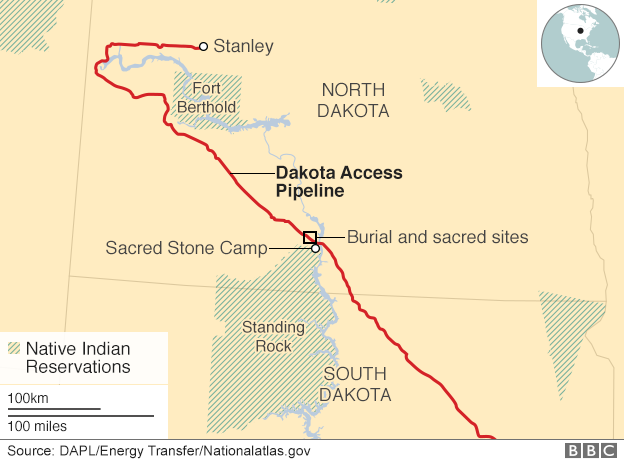 Senator Bernie Sanders (D.), who has actively opposed the pipeline, praised the government's decision and highlighted the native American struggle in his statement:
I appreciate very much President Obama listening to the Native American people and millions of others who believe this pipeline should not be built. In the year 2016, we should not continue to trample on Native American sovereignty. We should not endanger the water supply of millions of people.
For supporters, the administration's decision to halt DAPL construction is a direct affront to this country's infrastructure, as highlighted by Paul Ryan and Kevin Cramer's statements.
The pipeline, if constructed, could help cut costs for driller in North Dakota's Bakken shale region. DAPL, with a capacity around 470,000 barrels a day, would ship approximately half of the current Bakken crude production. Producers would then have access to the Midwest and Gulf Coast markets.
The Future
President-Elect Donald Trump has, as of December 1, 2016, announced his support of Dakota Access Pipeline completion. Trump has also been a vocal supporter of the Transcanada's Keystone XL pipeline project, which President Obama denied a permit last year.
When North Dakota Senator John Hoeven met with Trump's transition team last week, Hoeven said It is important to know that the new administration will work to help us grow and diversify our energy economy and build the energy infrastructure necessary to move it from where it is produced to where it is needed. "
Anti-DAPL protestors worry that Trump will overturn the decision and grant his approval for its construction once he takes office. DAPL supporters see it as inevitable.
For more information on DAPL, check out our earlier post on understanding the protests here.
---
---
Sources:
Feature Image: Tony Webster. Tony Webster (CC BY-SA 2.0). https://www.flickr.com/photos/diversey/29167637232. https://creativecommons.org/licenses/by-sa/2.0/ All rights reserved.
https://www.bloomberg.com/news/articles/2016-12-04/u-s-army-corps-of-engineers-denies-dakota-access-pipe-permit
http://www.cnn.com/2016/12/05/us/dakota-access-pipeline/
http://www.bbc.com/news/world-us-canada-38206347
http://www.foxnews.com/politics/2016/12/05/ryan-blasts-decision-to-block-dakota-access-pipeline-route.html
http://www.npr.org/sections/thetwo-way/2016/12/04/504354503/army-corps-denies-easement-for-dakota-access-pipeline-says-tribal-organization