By Matthew Blockus on May 09 2013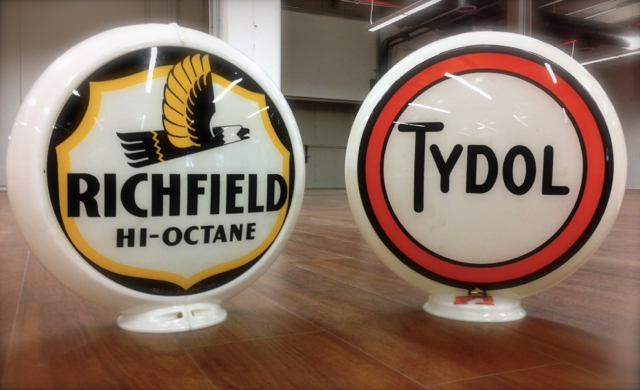 FLASHBACK SERIES: From over 88 years of history Petroleum Service Company has built up a collection of vintage oil signs and collectibles of all shapes and sizes. We thought it might be interesting to share some of them from time to time and shed light on the historical context of our collection.
The focus for this week's post is the antique pump globes that we have in our headquarters. These are simple and elegant pieces of spherical glass that went on top of gas pumps in the first half of the 20th century used to advertise a specific oil company or brand of gasoline.
The purpose of gas pump globes was brand identification for drivers at a distance. Lighting wasn't as good on gas stations as it is today. Sometimes all a motorist could recognize driving by was the gas pump itself lit up, and the globe glowed so they'd know what brand of gas was available. Post World War II, pumps started getting smaller, and by the 1960's, it was unusual to have a globe. Gas pump globe designs tended to be simple, limited to a small handful of solid colors because of the silk screening process used to create them.
The globes that belong to Petroleum Service Company are from Richfield Oil and Tydol. Each has a unique back-story. Richfield Oil Corporation was founded in 1905 and expanded quickly only to fall in the great depression where the company fell into receivership in 1931. Richfield emerged from receivership in 1936 and merged with Rio Grande. It experienced some significant historical events as a company including an attack by the Japanese of Two Richfield Oil tanks on Febuary 23, 1942 at the Ellwood oil field, which is west of Santa Barbara. The attack was carried out by a Japenese I-17 submarine and was the first attack on the United States mainland since the war of 1812. Richfield was also the first company to discover commercial quantities of oil in the state of Alaska.
Tydol was a brand created by Tidewater Oil Company, which was also known for its famous Flying-A gas stations and Veedol Motor Oil. Tidewater was founded in New York City in 1887. The company entered the gasoline market just before World War I, and by 1920 was selling gasoline, oil and other products on the East Coast under its Tydol brand. As an East Coast distributor Petroleum Service Company had gas stations that were Tydol branded and fuel trucks that had both Flying A and Tydol decals. In the photos below you can also see the old Veedol sign right in front of our fuel truck. In 1938 J. Paul Getty owned Tidewater and merged the company with Associated Oil Company to become Tidewater Associated Oil Company. At Petroleum Service Company we have a plaque from Tidewater Associated Oil Company for 20 years of "friendly association."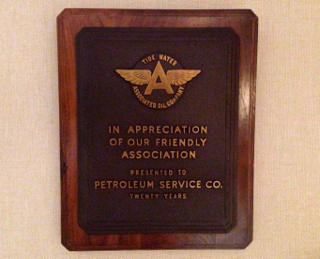 PSC plaque from Tidewater Associated Oil Company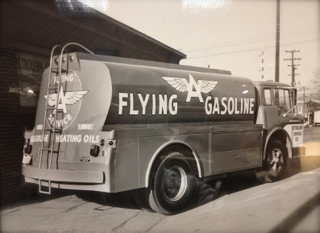 PSC Flying A Fuel Truck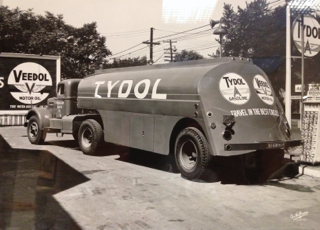 PSC Tydol Fuel Truck
Today Tydol is no more, but relics of its history live on in objects like pump globes, which are generally made from a ring of metal with a lens mounted on either side. Globes were produced in various shapes like the Shell clamshell and innumerable designs. Our Tydol and Richfield globes are circular with a classic and straightforward, vintage design.
Wouldn't it be nice to have these beautiful and simple designs at gas stations today?
Questions or Comments: Post Below
From the team of experts at the PSC Online Store