By Matthew Blockus on Jan 26 2015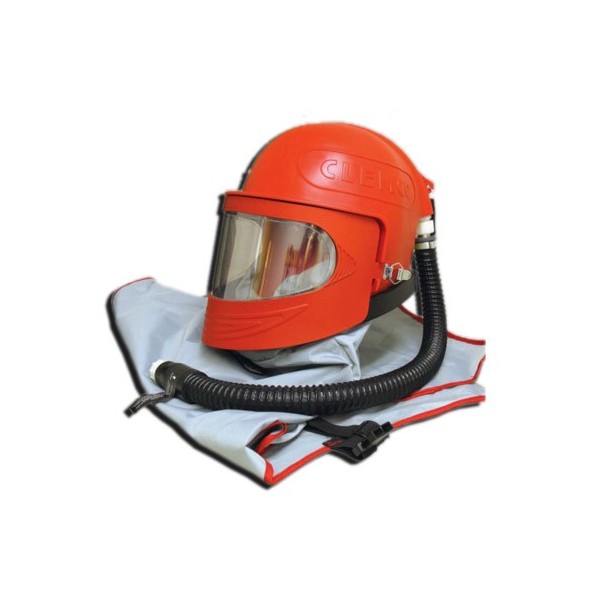 What exactly does Grade D air quality mean? It is commonly referenced in our Clemco product write-ups. While it may sound like a low quality grade, there is nothing harmful or unsafe about Grade D air.
Quite the contrary. Grade D air is merely the benchmark for compressed air respirators. Federal Occupational Safety and Health Association (OSHA) regulations state that breathing air shall meet at least the requirements of the specifications for Grade D breathing air. Grade D air is classified under the following characteristics:
Oxygen: 19.5-23.5% by volume
Hydrocarbons (Condensed): Maximum 5mg/m
Carbon Monoxide: Maximum 20 ppm (parts per million)
Odor: Free of pronounced odor
Carbon Dioxide: Maximum 1000 ppm
Supplied Air Respirators (SAR) are used to reduce exposure to airborne contaminants that are present across many industries. They are defined as an atmosphere-supplying respirator that provides the user with breathing air from a source independent of the ambient atmosphere. Compressed Grade D air is a common source of air for SARs.
The best way to achieve quality Grade D air has a lot to do with the air compressor intake location. In many large industrial facilities, the compressors are often located in a dedicated room or separate location away from the immediate site where the SAR is being used. A safety engineer is designated to focus on any possible hazards and the facility engineer is designated for getting the compressed air to the needed area. It is a common mistake to overlook compressor intake location. For example, you wouldn't want your compressor intake near the ground where different types of exhaust are in higher concentration. On the other hand, intakes located on a roof should be checked for proximity to process exhaust stacks.
Another important aspect to take into consideration is compressor discharge temperature. Compressed air by nature becomes saturated during the compression process. Any drop in temperature causes condensation to occur in the pipe. For best results, the dew point must be at least 10 F below the lowest ambient temperature to avoid condensation formation in the respirator. Make sure to survey the entire piping system to determine if any of it is located where temperatures might be lower.
There are two types of air compressors that OSHA covers: oil-lubricated and oil-free. Carbon Monoxide (CO) has the potential to be the most harmful contaminant produced by an oil-lubricated compressor. OSHA requires these compressors to have a high temperature and/or a CO monitor. If only a high temperature alarm is used, supply air must be tested in intervals to prevent CO in the breathing air to exceed 10 ppm. It is also advised by the OSHA standard to install a Co monitor on oil-free compressors supplying breathable air as well.
One of the most important items that a lot of facilities overlook is incompatible disconnects. Respirator manufacturers will generally offer several different disconnect coupling manufacturers. The employer must ensure that a respirator user cannot connect to the standard plant air system or to a possible asphyxiate.
When it comes to compressed air testing, there is no proper specification. It is recommended to test on a regular basis for liability reasons. There are many third party labs that conduct compressed air testing and even specialize in breathing air standards as well.
Following these basic guidelines is essential in helping SAR users achieve ideal levels of Grade D air quality. The end result will be equipment that is safe and also meets the requirements of OSHA in a properly designed system.