By Matthew Blockus on Jun 26 2015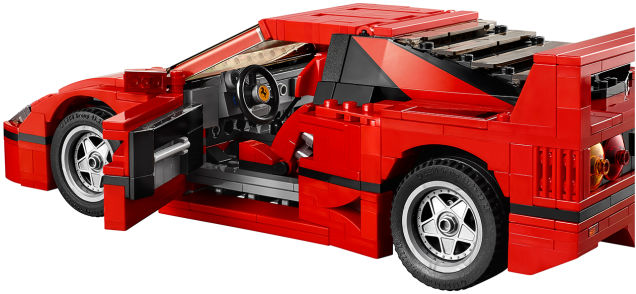 Almost 30 years ago, Ferarri released what some consider to be their most iconic car; the F40. Although it is technically an antique, the Ferarri F40 is still widely revered as one of the greatest supercars ever created. It was also the last car that Enzo Ferrari himself personally approved.
Starting August 1, 2015, for the low price of only $90, you too can own a Ferrari F40, but don't expect it to go 0-60 in 3.8 seconds.
That's because Lego is releasing the Ferrari F40 Creator Kit. The 1158-piece model includes working doors, pop-up headlights, a front hood that opens revealing the vehicles trunk, and a rear that opens to show off the car's twin turbo-charged 2.9-liter, 478 horsepower V8 engine.
Check out some photos of the assembled model below and be sure to pick one up when it releases in August. It's probably the best chance you have at owning a piece of Ferrari history.