By Sarah Simonovich on Feb 09 2016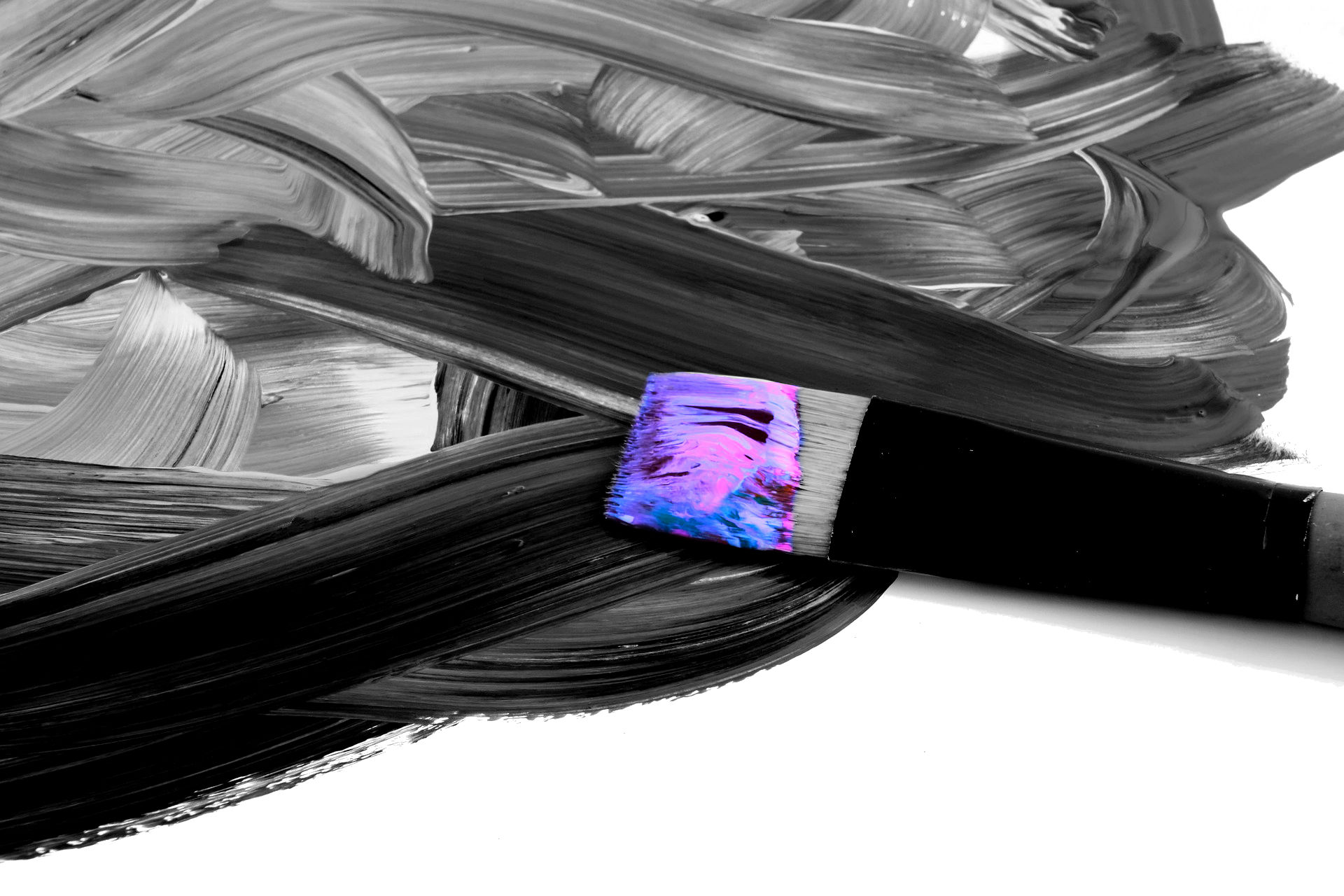 Oil Paintings
What comes to mind when you hear of or think of oil paintings?
Da Vinci?
Rembrandt?
Van Gogh?
It's doubtful that you actually think of oil, as in motor oil. Because oil paintings are done with a different kind of oil. Right?
Right.
Oil paint is the combination of pigment particles suspended in a drying oil, typically linseed oil. Linseed oil is not the kind of oil found in petroleum deposits. Linseed oil is actually the same thing as flaxseed oil and it is obtained from the (not decayed/fossilized) flax plant seeds.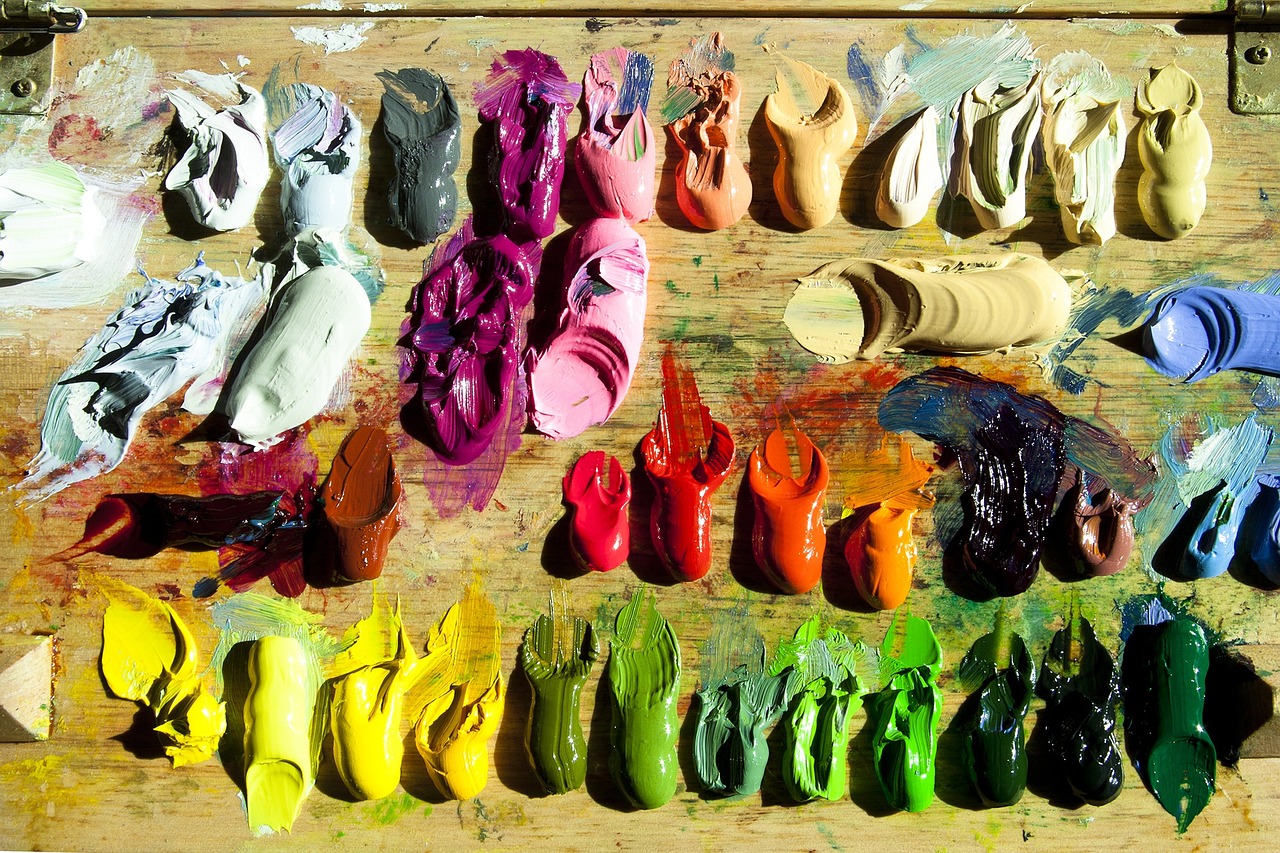 Oil painting is a popular media because it has the advantage of drying slow, allowing paint to be built-up gradually. Because of this, oil paint is more mistake-friendly than other quick-drying paints. Oil paints are also very easily blended, allowing for a whole spectrum of subtle color differences excellent for creating highlights and shadows.
Oil paints rank pretty high on the scale of quality art supplies. It's a classic medium (the oldest known oil paintings date from 650 AD) that seems to prevail against the tests of time.
Traditional oil paint doesn't always cut it, though. Sometimes artists need to get out of the box of predictable mediums.
A paint by any other name
The term avant-garde refers to people or [art]works that are experimental or innovative in some fashion. It pushes boundaries against the norm or the status quo.
In this case, the norm applies to medium.
In this case, it's experimenting with oil paint instead of oil paint.
David Macaluso is an artist currently living and working in Brooklyn, New York. As an artist, he employs the use of several different mediums in his paintings, including acrylic paint, graphite, ink oil paint, and, perhaps what is most striking about his method of work, —is his use of motor oil.
According to this post on Artsy Shark, David Macaluso says this about his use of motor oil paint:
I employ used motor oil as both a metaphor for this age in world history, and as means of recycling the substance into art. — As one medium amongst others in my work, I began painting with used motor oil in 2005. At the time I was thinking about ways to capture an essence of contemporary life. Oil is the lifeblood of the global economy whose reverberations reach every aspect of life today and virtually every corner of the globe. I wanted to stamp art with a material residue of this time in history, of my time, and one day I conceived of painting with —car oil. "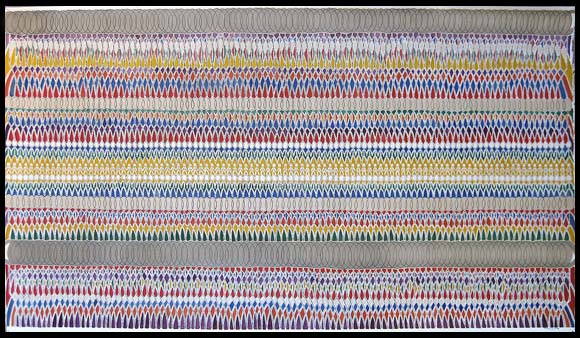 Tapestry. (2007). 29" H x 51" W (75 cm x 130 cm). Used motor oil mixed media on paper
Macaluso uses motor oil paint in many of his —mixed media " works, which he uses in conjunction with other materials, as well as his oil —paintings, " where he substitutes paint for the use of used car oil.
Besides his abstract paintings, Macaluso has taken his artistic explorations into the world of portraiture. In 2008 he released a series, Barack Obama: Made in Oil, which received international attention.
Macaluso is also known for his portrait of 2008 Formula 1 World Champion driver Lewis Hamilton. ExxonMobil commissioned the portrait to be painted in the used motor oil from Hamilton's engine during the 2008 British Grand Prix. The motor oil painting was unveiled and exhibited at the ExxonMobil pavilion and garden party of the British Grand Prix at Silverstone Circuit, UK, June 20-21, 2009.
David Macaluso: (2009). 24 x 28in (61 x 71cm) Used Motor Oil Mixed Media on Paper
You can watch videos of David Macaluso painting Barack Obama and Lewis Hamilton on his YouTube Channel here
Oil's well that ends well
David Macaluso isn't the first or only artist to —create motor oil art.
Richard Wilson is one of Britain's most renowned sculptors and is —internationally celebrated for his interventions in architectural space which draw heavily for their inspiration from the worlds of engineering and construction.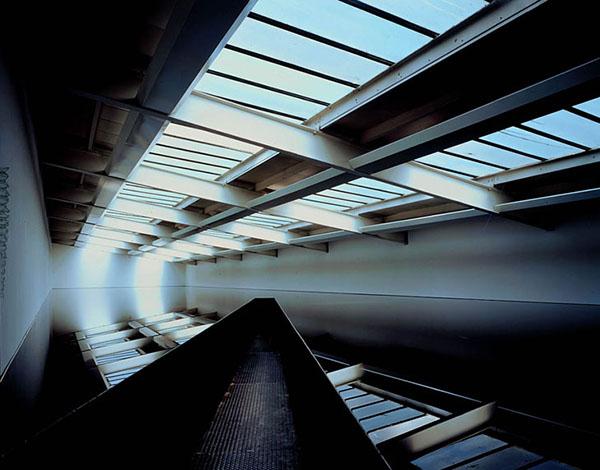 Richard Wilson, 20:50
Though he is a master of many works, perhaps his most legendary installation is 20:50. Created in 1987, it remains arguably one of the most important works of British art in the past few decades. Wilson's website describes the installation:
The gallery is filled to waist height with recycled engine oil, from which the piece takes its name. A walk way leads from a single entrance, leading the viewer into the space until they are surrounded by oil on all sides. The impenetrable, reflective surface of the oil mirrors the architecture of the room exactly, placing the viewer at the mid-point of a symmetrical visual plane.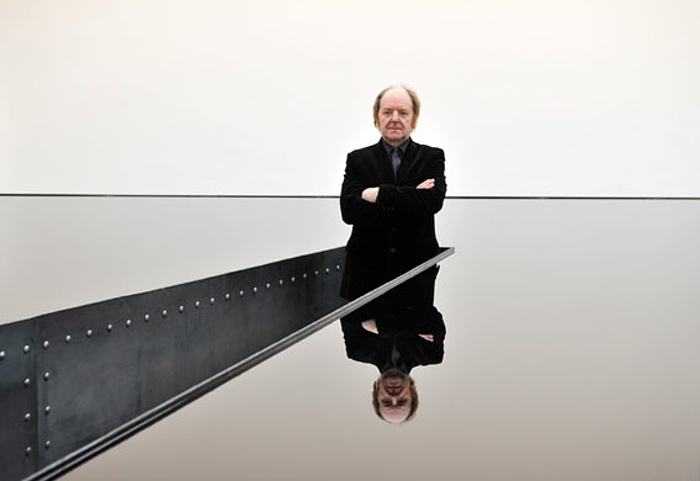 Richard Wilson
Since its inception, 20:50 (named after the viscosity grade of sump oil used) has traveled several times and has been on display in 9 locations. Since 2010, 20:50 has been on display in the Saatchi Gallery in London, although there are plans for the installation to move within the next couple years to David Walsh's museum in Tasmania (Walsh has paid a deposit to purchase the piece).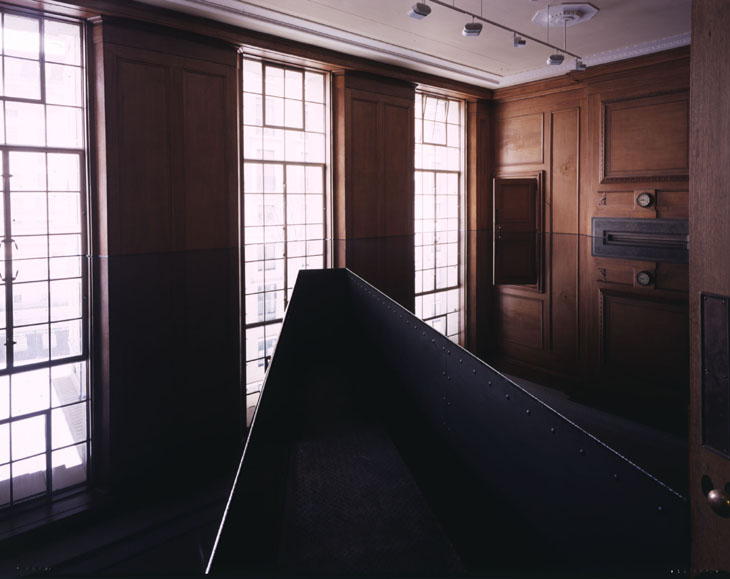 Wilson says that his work is —essentially an idea ":
It can be applied to any internal space and in each space it will be radically different in appearance - because it will reflect that specific space and adapt to that space's physical parameters - but fundamentally on the level of function, materials and meaning, it is always exactly the same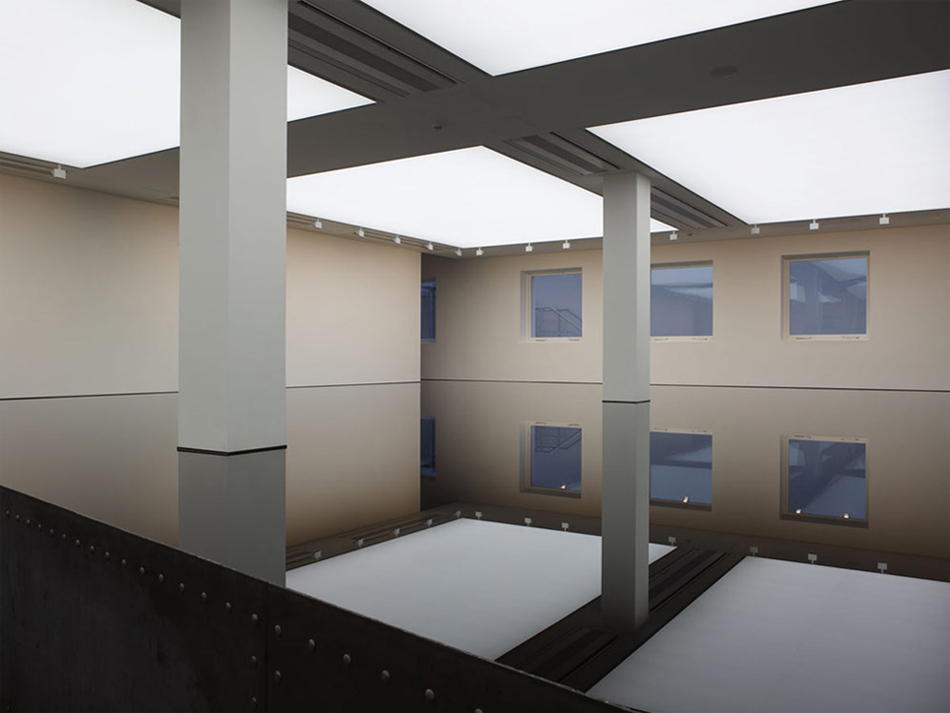 Saachi Gallery
Richard Wilson's work has retained its value over the years both for its simplicity and its boldness. Perhaps oil's charge in terms of politics in recent years has kept Wilson's 20:50 edgy and feeling new.
Placed into Abyss
Swiss artist Romain Crelier also utilized the glass-like, reflective surface of oil to create an interactive, artist installation.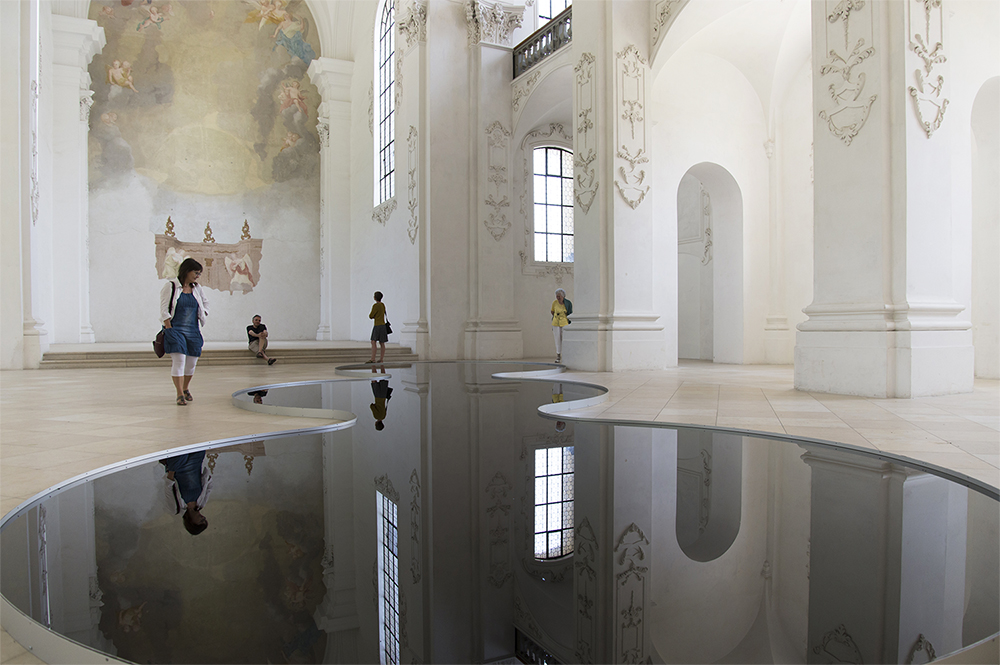 La Mise en Abîme (images via WFW)
The installation, La Mise en Abîme (which roughly translates to, ——to have put into an abyss'), was exhibited in the Bellelay Abbey in 2013. The work consisted of two shallow pools of engine oil which acted as reflective mirrors and allowed the viewers to interact with the baroque architecture of the church. According to We Find Wilderness, this installation continued —Crelier's career-long exploration of the space through conceptual engagement with buildings " and —his experimentation with light and dark, form and void, inside and outside, surface and depth, abstraction and figuration, reflection and absorption.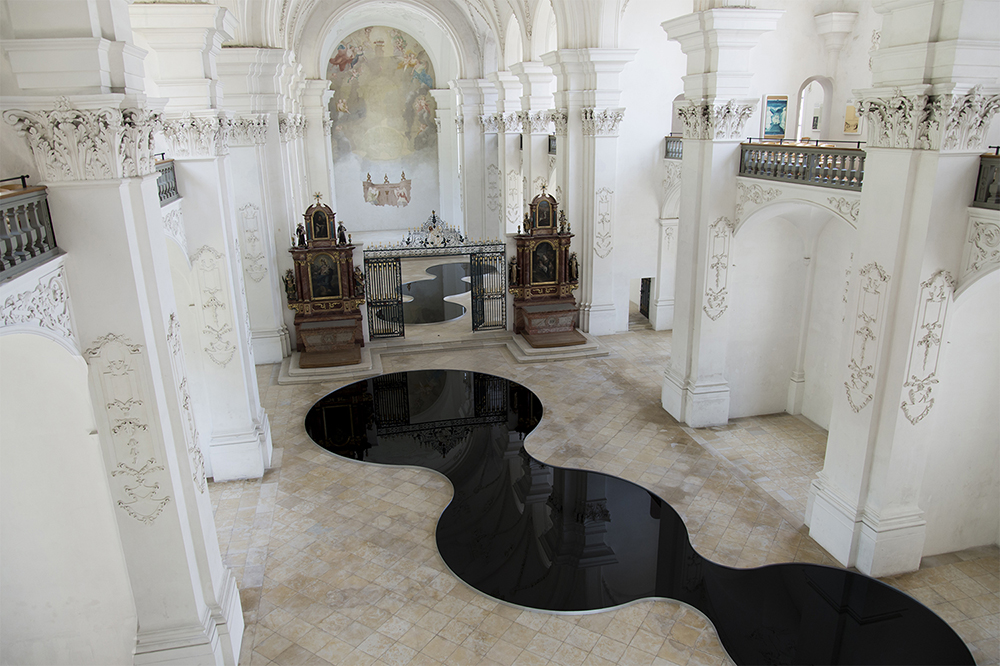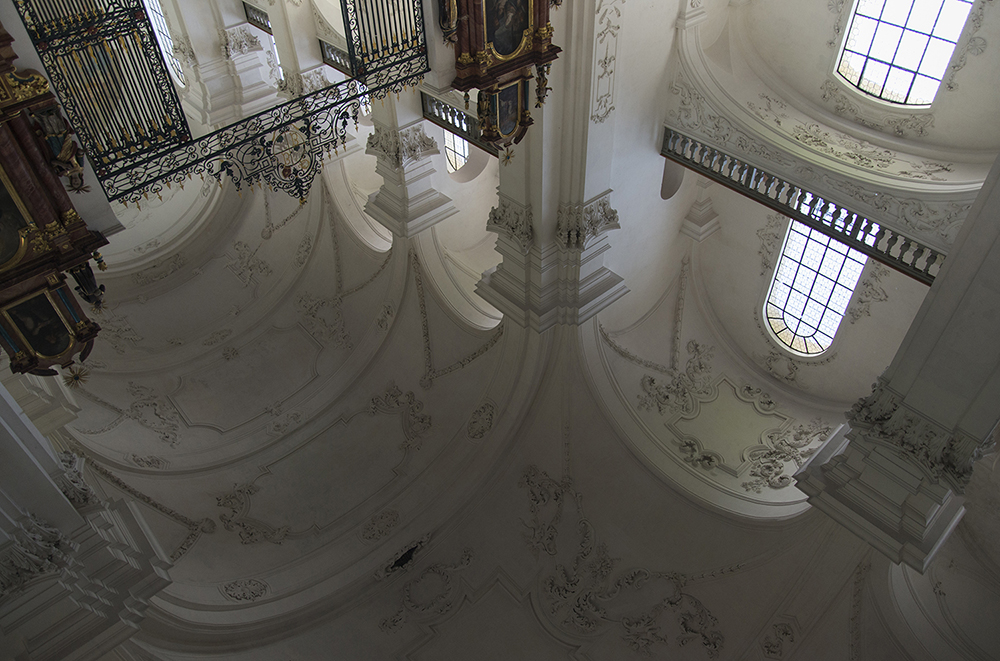 Feeling inspired to create some motor oil art of your own? Head on over to petroleumservicecompany.com for a fine selection of oils (and maybe your next painting media?).
---
references:
http://www.davidmacaluso.com/index.php
http://www.richardwilsonsculptor.com/index.html
http://www.telegraph.co.uk/journalists/alastair-sooke/6988825/Richard-Wilsons-2050-at-the-Saatchi-Gallery-review.html
http://www.artlyst.com/articles/richard-wilsons-2050-installation-acquired-by-australian-gambling-millionaire
http://www.we-find-wildness.com/2013/07/romain-crelier-la-mise-en-abime/