By Emily Viteritti on Mar 26 2019
This winter has been ruthless, so it can be hard to imagine it's finally spring. Over the winter months, moisture, salt, and other contaminants have crept into your vehicle's tight seams and crevices. Using certain undercoating products on your vehicle this spring will help prevent rust and corrosion from affecting your vehicle. We are happy to introduce one of those products, Carwell rust inhibitor oil, to our lineup of premium rust preventative coatings.
How Carwell Rust Inhibitors Work
Carwell consists of a unique blend of rust inhibitors to guard against rust and corrosion. Once the product is applied, it removes dirt, moisture, and will help stop surface rust. An active molecular film is then bonded onto the good metal to prevent rust from forming. The product is specifically designed to seep into the cracks and crevices after initial application to provide even more protection. On top of everything else mentioned, it even stops electrolysis by not letting the external circuit complete.
This product is unlike other kinds of undercoating. It is made of thin oil which explains how it can easily seep into your car's crevices. Rubberized, wax, and asphalt-based undercoating apply much thicker on the undercarriage of your car meaning they don't continue to seep into cracks after initial application.
Essentially, now is the perfect time to apply this oil-based rust inhibitor to clean up the mess winter left behind on your vehicle. Carwell is designed to be applied annually as well as semiannually for the ultimate protection in those regions that deal with harsh winter driving conditions.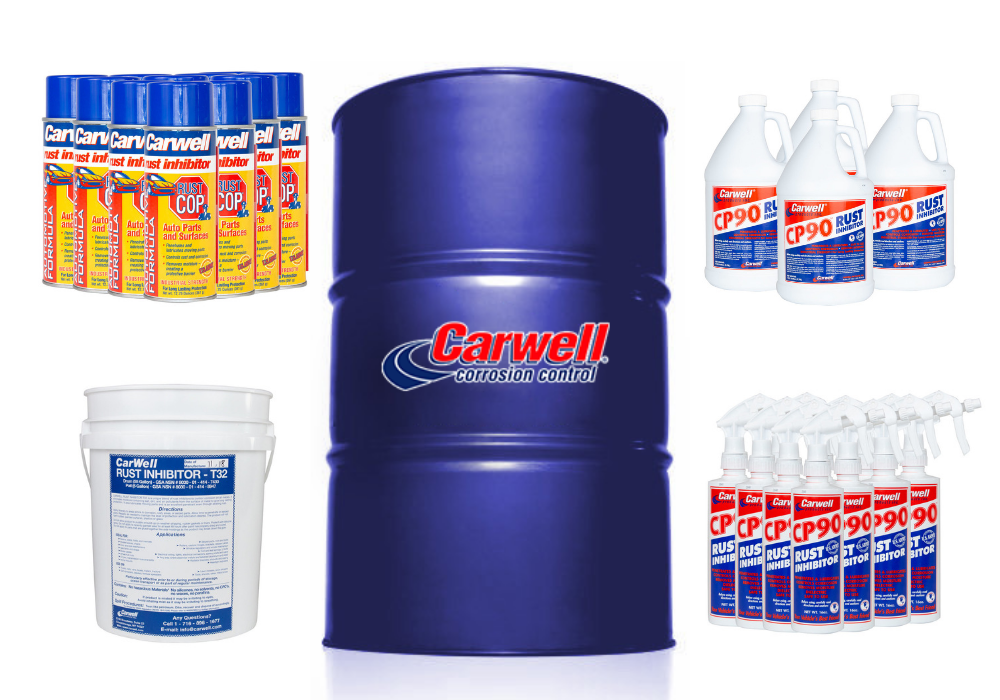 Benefits of Using a Rust Inhibitor
Who doesn't love to save money? Corrosion is a costly enemy; however, corrosion can be controlled by Carwell. Regular application to vehicles allows costly repairs to be avoided as well as increase the resale value. It also provides longevity to your business by reducing capital expenditures, increasing ROI savings, and reducing the total cost of ownership. You can even expect an improved work environment because it will be a safer place to work with fewer malfunctions meaning less unsafe situations. Being able to save money without trading off the safety of employees is the main benefit of Carwell.
Oil-Based Rust Preventatives
We are now offering two products from Carwell: Rust Cop and CP90.
Carwell CP90
CP90 is a unique mixture of oil-based rust inhibitors to control corrosion. While lubricating moving parts and penetrating pre-existing rust, CP90 lifts moisture then forms a molecular film. Because this is an active product, it continuously self-heals, which means vehicles and equipment will have longer life spans. On top of everything else, CP90 is approved not only by Corrosion Preventative Compound (CPC) but also by the U.S. army.
This rust inhibitor is now available on our website in the following various sizes:
Carwell Rust Cop
Rust Cop is the aerosolized version of CP90. It is a general-purpose automotive formula that penetrates and frees nuts and bolts seized with corrosion. This long-lasting product can be used on trucks, cars, bikes, snow blowers, power tools, and more. It can be used at home for winter protection against metal patio furniture or in the shop for a quick solution to loosen some seized bolts on a car. Versatility and longevity are qualities you can expect from Rust Cop.
This CPC approved product is now available on our website and comes in a convenient case of 12 aerosol cans.
You can shop all rust preventative coatings by application at petroleumservicecompany.com