By Sarah Simonovich on Dec 18 2017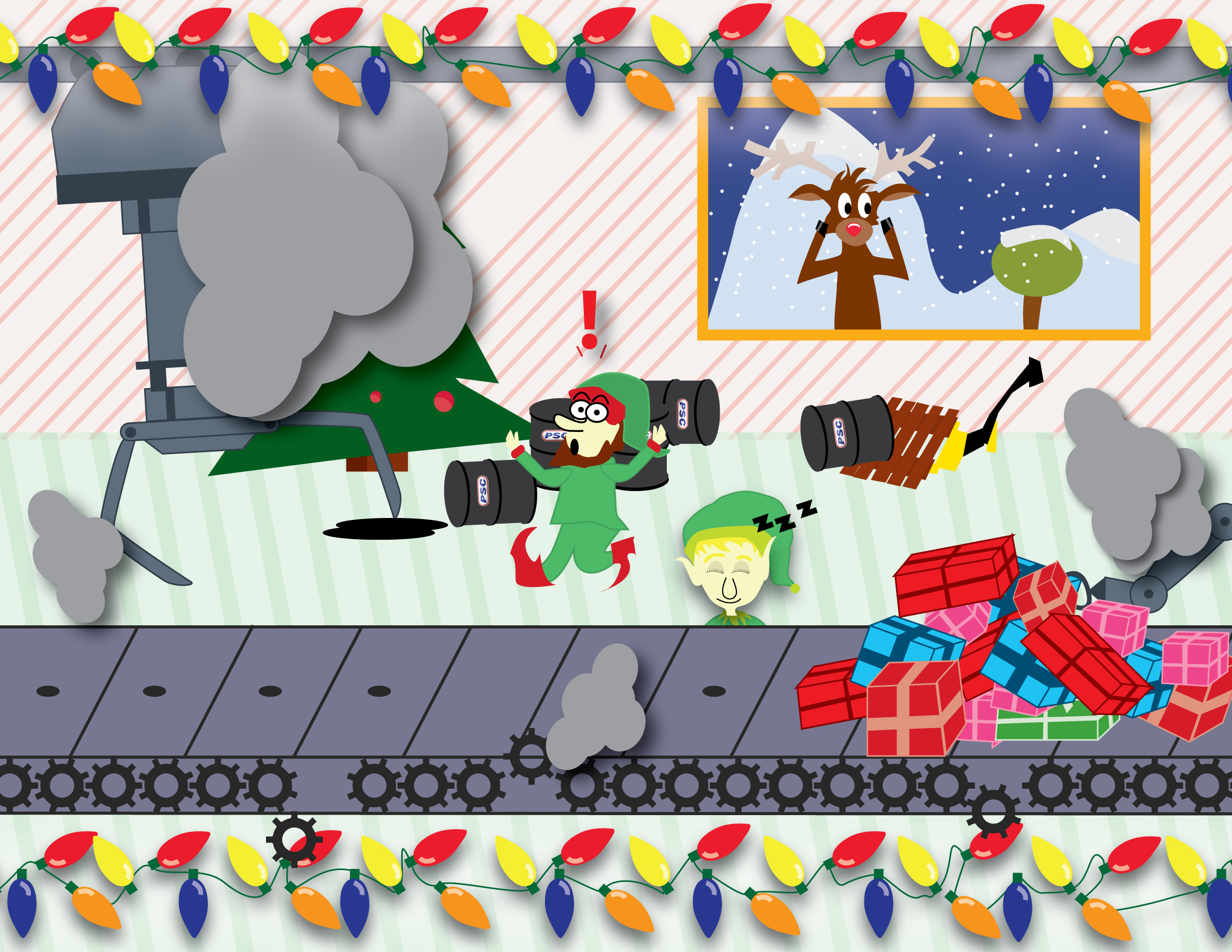 The Holidays always get us a little cheery here at Industrial Outpost. While we listen to Christmas music and eat our weight in cookies and hot cocoa, we can never quite shake the lubricant business. But who could blame us? It's a very serious business--especially as temperatures get into the extremes.
Last year, we looked at what types of lubricants Santa would need to properly run his North Pole toy factory. This year, we're extending that concept into a look at what happens when Santa doesn't use proper greases.
Sit back, relax, and enjoy your new favorite bedtime story, folks. And don't worry--it has a happy ending.
---
If you prefer to listen to your stories, check out the PSC crew's reading of this poem:
---
'Twas the Night Before Christmas...
'Twas the night before Christmas and throughout the North Pole,
Not a gear was a 'turning, things were out of control.
The presents were piling along the conveyor without care
Because the grease in the gears was simply not there.
The elves were all running around full of worry and fret,
Concerned this would be the worst Christmas yet.
Away was dear Santa preparing the sleigh,
To deliver all those presents on Christmas day.
When in the machines there rose such a clatter,
The managing elf looked to see what was the matter.
The gears were grinding metal, the oil was too thick,
They had to do something and it had to be quick!
The moon was shining, the snow was falling
And all Santa's helpers were very near brawling.
When what to my wondering eyes should appear,
But a delivery truck stocked with lubricants for gears!
In his white, blue, and red I knew he must be
Our favorite lubricant expert from PSC!
More rapid than reindeer he unloaded his truck
And helped get our equipment, well, unstuck.
Here's cold weather lubricants to grease your machinery,
As winter-appropriate as your holiday greenery.
Now, these High VI lubricants will get you through this ordeal
Because despite the cold temperatures, they won't congeal.
As animals run upon sensing a storm about to come,
Our dear friend didn't stop until he got the job done.
Head-to-toe covered in greases and hydraulic fluid, too,
We never once doubted that this man would pull through.
And then, in a twinkling, we knew he had finished
When just like that, the grinding diminished.
The machinery stopped whining and groaning and dying,
It now hummed with perfection, we all started crying.
It was a beautiful sound, those perfectly-working gears,
A wonderful sound, the best music to our ears!
The now less-stressed elves gathered to offer a hand
To he who had traveled from Wilkes-Barre to Christmasland.
He was bundled from head to foot in wintery fleece
His clothes were all splattered with set-in grease;
Dipsticks and product data sheets were all in his pack
Which he carried with duct tape around on his back.
His eyes how they twinkled, so knowing, so wise,
As he handed out cans of oil, perfectly elf- and pint-sized.
His hands were well-worn, they had plenty to do
Choosing the right industrial lubricants and automotive, too!
A smartphone he pulled out of his pocket with a card,
And handed it to me with the utmost regard.
I took a quick look, "Petroleum Service Company," it read,
"We're the pioneer of online petroleum sales, " he said.
He turned on his phone and pulled up the site,
And told us he had a solution for our awful plight.
He made us an account, showed us products and prices
It's all we could want right from our devices!
He spoke not a word as he let us explore
The benefits of buying oil from an e-commerce store.
From an informational standpoint, it offers the most,
As does their official blog, Industrial Outpost.
Soon he sprang back to his truck and bade his goodbye,
But not before letting out one final cry:
If you need lubes, greases, fluids, or maintenance supplies,
Check out petroleumservicecompany.com, that's what I advise! "