By Sarah Simonovich on Jul 12 2016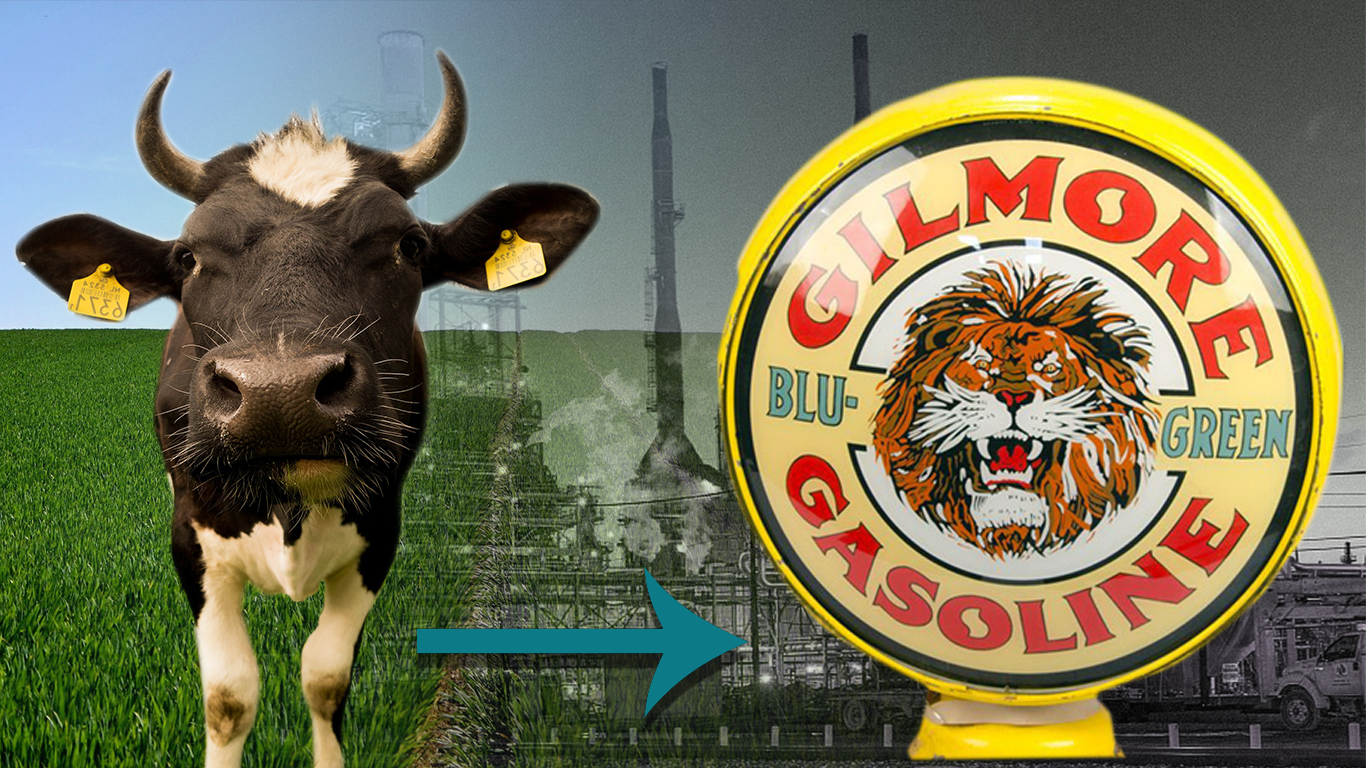 There's no use crying over spilled milk, especially when it leads to bigger and better things for the Gilmore Family, what started as a venture in dairy products led to becoming the largest distributor of oil products west of the Mississippi.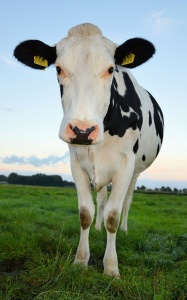 Dairy Farm
The corner of 3 rd & Fairfax in Los Angeles would eventually become the world famous corner of 3rd & Fairfax. But in 1880, it was merely a 256-acre ranch dedicated to dairy farming.
Arthur Fremont Gilmore moved to LA from Illinois in 1870 and, with a partner, purchased two dairy farms ten years later. Ten years after that, the partners split their holdings (it would seem that perhaps Gilmore got the better deal here).
Mr. Gilmore wanted to expand his herd at the beginning of the 20 th century. When he began drilling new wells for water, he found something else entirely: oil.
What's better than a dairy farm producing milk? A dairy farm producing oil!
Gilmore Oil Company
"Someday you will own a horseless carriage. Our gasoline will run it Gilmore Oil Company." (Gilmore Oil Company, 1913)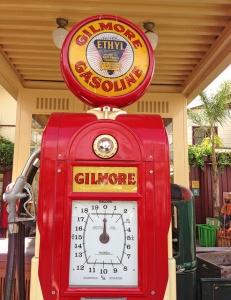 The Next generation of Gilmore's took over in 1918 and Earl Bell Gilmore (Arthur's son), began to create a massive distribution network for petroleum. The automotive industry was growing and cars were increasing in numbers, particularly in California, which helped spur the Gilmore Oil Company into the largest oil company on the West Coast.
Part of Gilmore's success is certainly rooted in E.B. Gilmore's flair for promotion. Gilmore became the first company to market its gasoline by color their Blu-Green gasoline was an unforgettable sight seen through the clear glass globes at the top of oil pumps. Likewise, their Red Lion logo became a famous and integral part of the company (so much so that E.B. hired pilot Roscoe Turner to fly across the nation in a Gilmore Oil Company sponsored airplane with a lion co-pilot, fittingly named Gilmore).
Blu-Green and Red Lion Gas dominated the tanks in West Coast automobiles from the 1920s to the early 1940s; back in the day, there were more than 1,100 stations which sold Gilmore products exclusively and another 2,400 that sold Gilmore along with other brands.
Where cows once grazed, oil derricks replaced them in great numbers until Los Angeles boundaries expanded to include the Gilmore property. The field continued to produce crude oil, the derricks were not permitted on such a large scale, due to city regulations.
In 1948, after Gilmore Oil was bought out by Mobil, the E.B. Gilmore built a gas station (Gilmore #7) in that Northwest Corner of the property. Gilmore #7 was quite unlike any other station it was a full-service Gas-a-teria, " where patrons could either opt to have full-service presented with a smile by a lovely, well-trained attendant, " or pump their own gas and save 5 cents a gallon.
Gilmore #7 closed by the time the 1960s rolled around, and the land, still owned by the Gilmore family, served a number of uses.
Farmers Market
Take it back to 1934.
At this time, a good portion of the Gilmore property was used for a stadium that entertained midget car races, boxing matches, and rodeos, among other entertainment acts. The south end of the property, however, was just a parking lot.
At the height of the depression, two entrepreneurs, Fred Beck and Roger Dahlhjelm, approached E.B. Gilmore with an idea to build a village at the corner of 3rd & Fairfax where local farmers could sell fresh produce and fare. E.B agreed and in July 1934, 12 farmers a few other merchants sold their products from the back of their trucks.
By October, farmers and merchants alike (including restaurant owners) were moving into permanent stalls on the Gilmore property. The new Farmers Market became incredibly popular and became a destination for not only locals but for world travelers, too.
The famous Farmer Market still exists today and remains one of Hollywood's favorite places.
Gone but not quite forgotten.
While Gilmore gasoline no longer exists, the Gilmore Oil Company is not to be forgotten easily--besides the antiques and memorabilia that can be found, say, on sites like eBay, today the northwest corner of the Gilmore property is known as Gilmore Station, "a community retail center located on the historic northwest corner of Third and Fairfax in the heart of Los Angeles."
So thanks to petroleum (and dairy cows), the people of LA can enjoy everything from fresh produce to cheesecake to Trader Joe's.
Oh yeah--and Starbucks restored a former Gilmore station at Highland and Willoughby (with a drive-thru), allowing another type of fueling up.
---
Sources:
http://www.farmersmarketla.com/history