By Sarah Simonovich on Mar 06 2018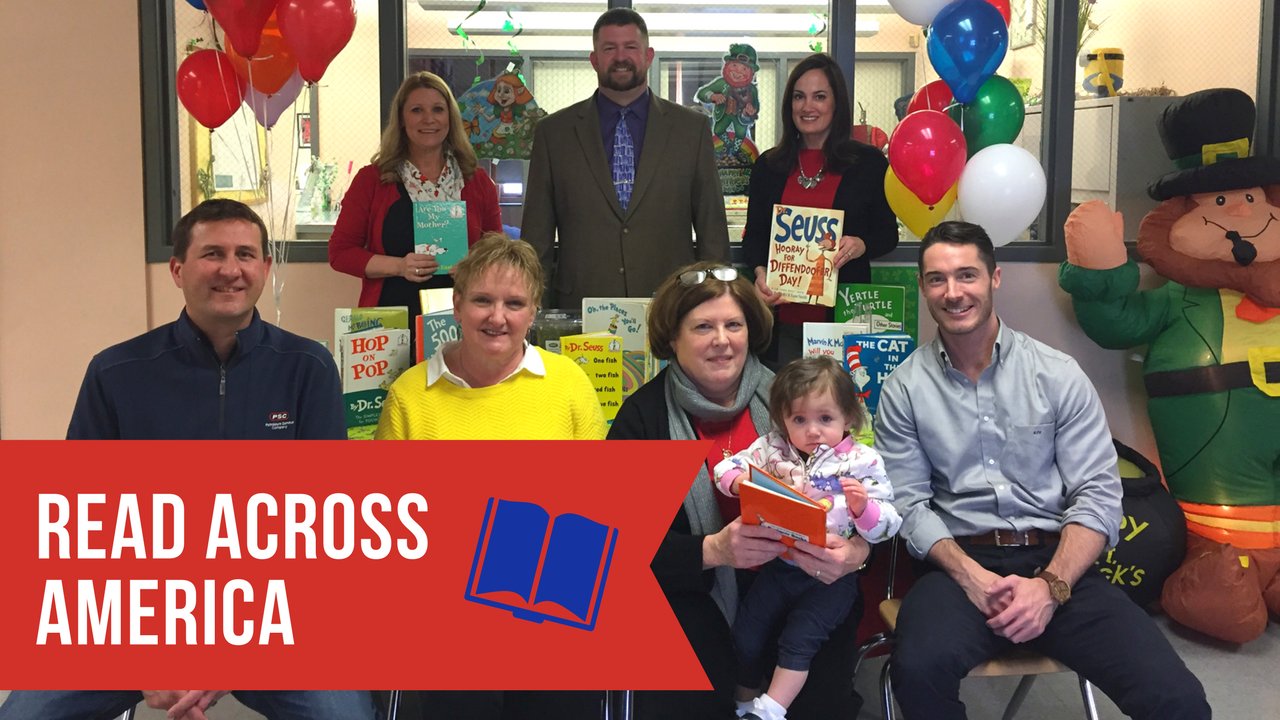 Every year on March 2nd, children (and adults, too!) celebrate National Read Across America Day and National Reading Month. In support of reading programs in our local community, some of us from Industrial Outpost and PSC participated in this event at one of our local elementary schools.
Now, technically, those of us living in Northeastern Pennsylvania were hit by a nor'easter this past Friday, March 2nd. But not even that much snow can bury our dedication to reading and celebrating. We just did it a little later.
Read Across America
The National Education Association (NEA) came up with the idea in May 1997 and held the first Read Across America event on March 2, 1998. This annual event is meant to raise awareness and motivate children in communities across the nation to read. The date in question, March 2, is the birthday of beloved children's book author, Dr. Seuss. Dr. Seuss (also known as Theodor Seuss Geisel) is one of the best-selling fiction authors of all time and is known for his more than sixty children's books, including The Cat in the Hat, Green Eggs and Ham, and Oh, the Places You'll Go!
Read Across America is important beyond one day in a calendar year. The event, in raising awareness for the importance of reading, promotes reading year-round and over the course of a lifetime. Children and adults alike all benefit from reading and the skills that come with it.
A child's ability to read— and the process of reading itself— contributes to their successes in school and in work. This continues into adulthood. In fact, reading skills help develop other skills that remain important throughout life, such as phonemic awareness, phonics, vocabulary, reading comprehension, and fluency. Additionally, reading contributes to students having more knowledge, better language skills, and increased imagination. Besides being an educational tool, reading remains an important form of entertainment for kids and adults of all ages.
At Industrial Outpost and PSC, we don't take reading for granted. We support education and we also support our local community. And when we can do both, we jump at the opportunity.
Oh, the Places You'll Go!
But here's the thing: we don't do anything the easy way and we're always looking for ways to do things differently.
That's why to promote Read Across America, our in-house musician decided that the only thing better than reading a Dr. Suess book to a room full of third graders is to sing it.
Shawn Conahan's day job is an online marketing strategist at PSC. But outside of the office, he's also the lead singer in a local band called Vine Street. So, with Shawn's singing superpower and Dr. Suess's Oh, the Places You'll Go!, some magic happened. And it was a big hit.
I don't think we could have picked a better book to bring to life. —Oh, the Places You'll Go! —is about the journey of life and all the ups and downs associated with it.
"Will you succeed? Yes, you will indeed. (98 —% guaranteed.)"
And success starts with having some of the right tools. The liberal arts— reading, writing, music, and beyond— are all a part of that.
At PSC, part of our mission is information: we aim to educate on a daily basis. That's why Industrial Outpost exists, after all. We love being able to provide our readers with tips, product profiles, and interesting information. And we love it doing it across multiple platforms, including videos and even poetry.
The power of information is unquestionable. And the power to do something with such information is limitless. And it all starts early on at home and in the classroom, which is why we support Read Across America.