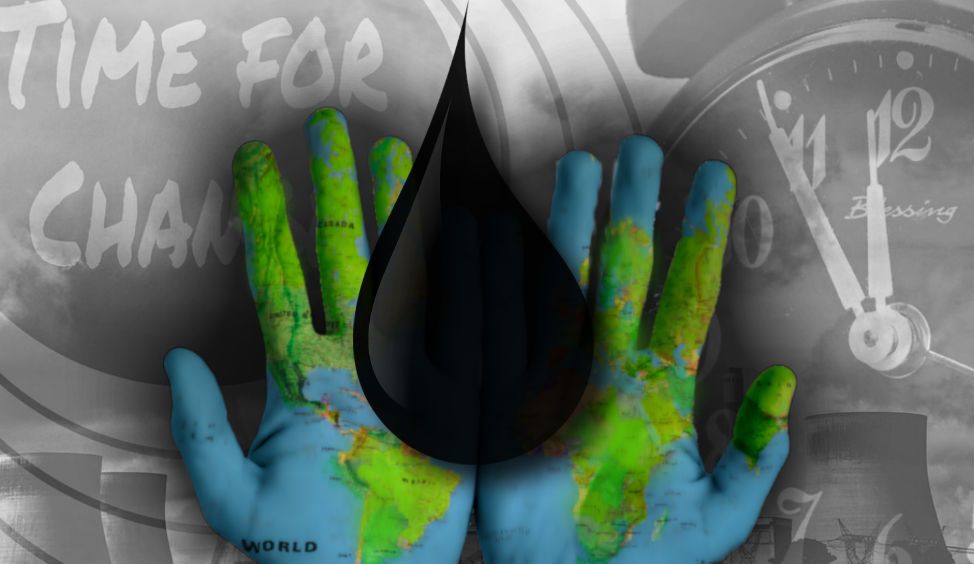 It's hurting both your profits and the earth — but as a natural substance, why do the various ecosystems of the globe (including our own society) respond so negatively to spilled oil?
Oil waste though, perennially, a quiet and looming enemy is finally beginning to rear its ugly head.
Following the Deepwater Horizon oil spill in 2010, the world collectively realized (mostly upon an observation of the stark photos from NASA satellite) the utter size of the petroleum industry: one, frankly, that is visible from space.
After nearly three months of constant gushing, an estimated 4.9 million barrels sat atop the ocean surface in the Gulf of Mexico and beyond. Eleven people went missing, marine and plant life began to suffer deformities and are still subject to cardiotoxicity, and, by 2015, the supermajor petroleum company BP took a hit of at least $50 billion.
Nobody profited from the spill — it was (and is) in every shape and form, a disaster.
The Gulf of Mexico, following the 2010 BP oil spill.
The once flourishing marine environment still struggles, in 2016, to return to its former glory. As recently as 2014, the death toll of dolphins was four times the number in 2010.
Organisms of any shape or size exposed to an oil spill will be affected in some way. It's a shame, however, that it takes a disaster on the scale of the BP oil spill to really garner any attention.
Sure, 210 million gallons of oil is a heck of a lot more than that fresh quart you knocked over last week, but the tiny ecosystem you've doused in motor oil, however microscopic, is now compromised.
Certain components of lubricants, and crude oil in general, is harmful to plant and animal life because of its physical characteristics; instead of instantly acting as a deadly poison on plants and animals, spilled oil works much more slowly.
Granted, a high concentration of oil can be acutely poisonous, but most plants and animals suffer from long term exposure. Birds and mammals usually die due to a lack of insulation — the physical characteristics of oil prevent feathers and fur from doing their job. Fish eggs and embryos are unquestionably at risk, and microscopic organisms may die out rapidly.
There are a few things that can be done.
While volunteering and donations come in bunches following a natural disaster, the failing ecosystem at your feet is much less fortunate, receiving far less media coverage, most of the oil has likely already soaked into the ground, leaving an ant farm well-lubricated and a gang of slimy worms a bit more slimy.
After the damage has been done, it's very hard to reverse. As such, taking small steps to avoid spills, and handling spills immediately after they occur is vital to the preservation of the environment, no matter how small of a chunk you've begun to destroy. (It's nothing personal, this happens to everybody at some point or another in an industrial or home-auto situation).
For outdoor hydraulic applications, compressor applications, food manufacturing applications, and other industrial applications, choosing the right lubricant may be essential to keeping your carbon footprint a baby-sized one.
BlueSky Lubricants deeming themselves "The Premium Alternative to Big Oil, " have taken matters into their own hands. It's been a slow emergence for the environmentally-conscious brand, but it seems they've jumped on a train that's just beginning to cook up some steam.
Green Earth Oil Distributors, LLC in Texas has created a non-toxic automotive motor oil, as well. As the reach of these companies begin to extend to other parts of the globe, big oil seems keen on adapting. Multiple large oil companies have begun to market their environmentally-friendly, synthetic lubricants in an attempt to get on board before these smaller businesses take the ball and run with it.
As environmentally-conscious millennials continue sprouting new businesses that require heavy-duty machinery (which, in turn, requires quality lubrication), more and more business owners are opting for biodegradable or environmentally-friendly lubricants.
PureBlu Hydraulic Oil from BlueSky Lubricants is dyed to a deep blue hue — though the constituents of the oil itself may not be equivalent in VOCs to rainwater, the leak-detection formula is designed to stop the flow of run-off before it becomes a problem. Their other products consist mainly of biodegradable, environmentally-friendly synthetic lubricants.
A poorly managed home workshop or garage may pose a risk to the environment.
While less ideal, there are products designed to stop the flow of run-off oils before they cause too much damage.
Products from PolySafe, such as absorbent pads and socks, are designed to soak up the viscous fluids instantly — another option is Dri-Rite clay granules, often referred to as Fuller's Earth, blended with Dolomite. While the products work incredibly well with oil-based lubricants, virtually any spill can be handled swiftly with either product. Find them here.
You may not have made it down to the Gulf to put in any, real volunteering effort. It's ok.
For the sake of yourself and the environment, just be mindful of your practices and how you handle these products should you be working with them (and we suspect you will be).
Keep your options open: while the classic brands have always delivered performance, it may be about time that performance and environmental impact be held in the same regard. Do your best to keep your leaks in check -- no matter what type of lubricant you use. It saves you money, and it helps the environment.
If, however, your problem lies exclusively with petroleum, then you might have to address the issue at its very core: it simply works too well.