By Matthew Blockus on Jan 31 2015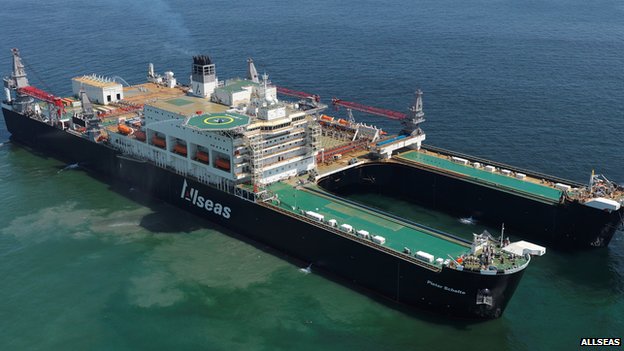 Move over Titanic. There's a new supersize ship making waves that everybody should soon become familiar with.
Enter —the Pieter Schelte, the world's current largest ship, which can pull decommissioned oil rigs out of the water like weeds in a garden. Sporting two parallel hulls, a 1,250 foot length, and a 400 foot width, it is a gargantuan of a vessel.
To get the job done, the Pieter Schelte maneuvers its two hulls around an oil platform, grabs onto the platform's legs with eight hydraulic clamps, and performs a rapid, two meter lift to pull 48,000 metric ton oil rigs off of their bases to be disassembled. The Pieter Schelte can also remove the legs left behind after the platform is removed. In addition, it has the capabilities to install oil platforms and lay pipeline.
The concept for the Pieter Schelte was conceived in 1987 and fine-tuned for 20 years until construction began in 2007. AllSeas, a Dutch-Swiss engineering group, awarded the construction contract to the South Korean company Daewoo Shipbuilding and Marine Engineering. Construction of the Pieter Schelte was completed in the summer of 2014, and the ship arriving in Rotterdam, Netherlands for the final assembly stages in early January 2015.
The world will finally witness the Pieter Schelte in action during its May 2015 debut, when the giant catamaran will attempt to remove each of Shell's three decommissioned Brent platforms in the North Sea, off the coast of Scotland.
As the saying goes, there's always a bigger fish, and that fish in this instance is the Pieter Schelte's even larger, yet to be named brother —— who is slated to be ready for action in 2020.
For a better idea of how the Pieter Schelte works, check out the following video: