By Sarah Simonovich on Apr 26 2017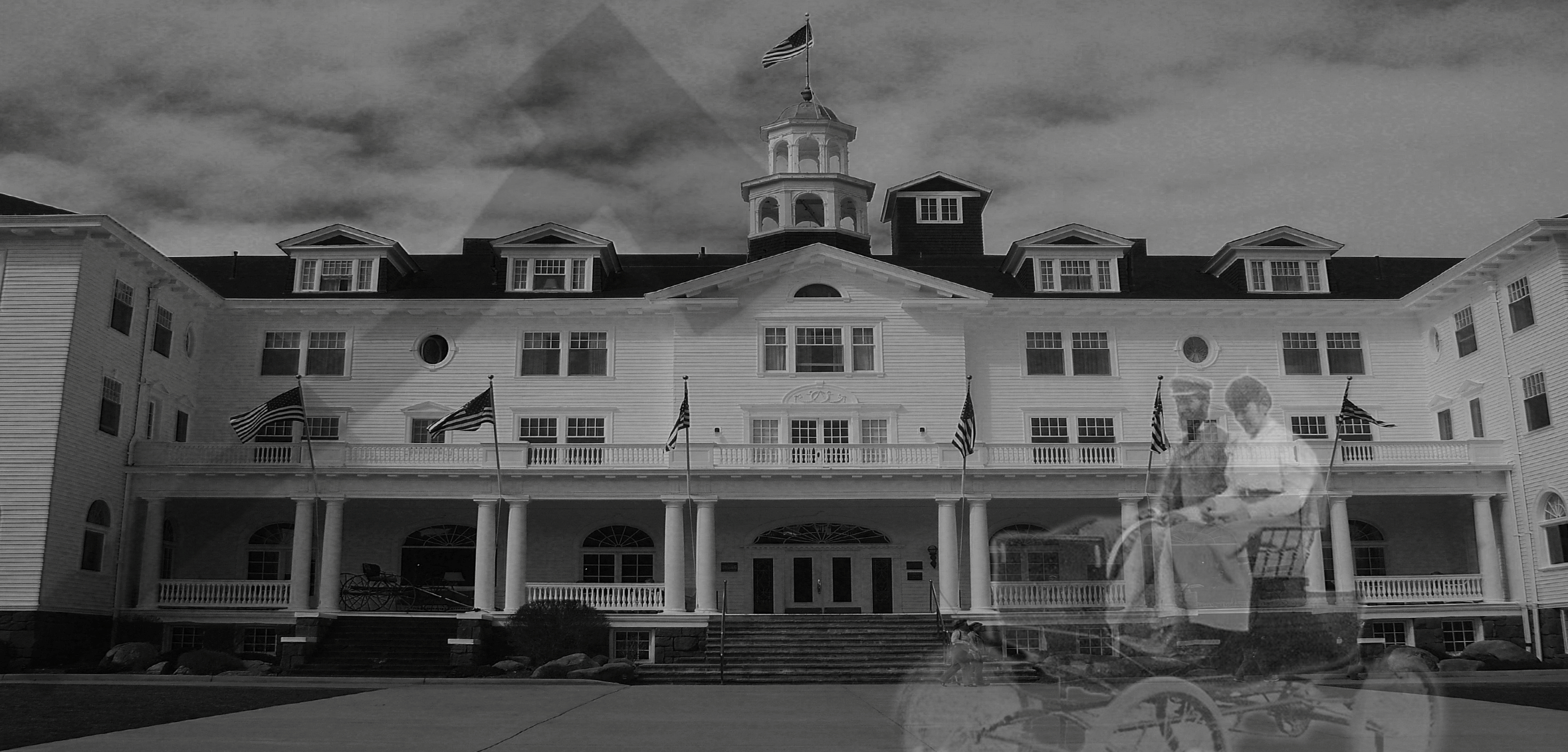 Photography, steam cars, and a haunted hotel —all have something in common--a pair of brothers born in 1849.
The Stanley Brothers
Freelan Oscar and his identical twin brother Francis Edgar were two of six children born to Solomon P. Stanley II and Apphia Kezar Stanley in Kingfield, Maine. From a young age, they demonstrated entrepreneurial spirit, aptitude for just about everything and, what I imagine was a special twin bond.
Freelan Oscar Stanley circa 1910
When they were only 10, Freelan and Francis started their very first business together refining and selling maple sugar. I don't know if this was the 1860s equivalent to a lemonade stand, but their teamwork (and work work) didn't stop there.
At 11, their great-uncle Liberty taught them how to make violins. After only a year, Freelan had completed 3 instruments, and he would continue to make concert-quality instruments throughout the entirety of his life. Suffice it to say, their childhood talents went far beyond the hand turkeys and macaroni art of most 10-year-olds.
When they enrolled at the Western State Normal School (now the University of Maine, Farmington), they had every intention of becoming educators. However, Francis left college to pursue a career as a portrait artist. Freelan attended Hebron Academy for a couple years before Bowdoin College but he never received a degree due to his expulsion.
Following Bowdoin, Freelan became headmaster at the high school in Mechanic Falls, Maine, where he met and then married Flora Jane Record Tileston.
In 1881, Freelan contracted Tuberculosis, which had already killed his younger brother, Solomon Liberty, the same year. He then decided to abandon a sedentary lifestyle. He became involved in manufacturing and opened the Stanley Practical Drawing Set factory, which was destroyed by fire only a year later.
Francis Edgar Stanley in his studio
Stanley Dry Plate Company
Around the same time as his brother was getting married, Francis also married Augusta May Walker and opened his photography studio in Lewiston, Maine. Within a short time, it became one of the largest in the state. He also developed an affinity for photography and suggested to Freelan that they work together, following the tragedy of the factory fire.
By 1885, the brothers established the Stanley Dry Plate Company where they perfected the factory process of manufacturing dry plates. Their business was incredibly successful and they amassed a small fortune. Their work completely transformed photography of the time.
Stanley Steamers
Always the entrepreneurs, the Stanley brothers weren't satisfied with their successful photo plate venture. With both time and money burning holes in his pocket, Francis became interested in motor cars. In the middle of an American innovation Renaissance (thank you, Alexander Graham Bell and Thomas Edison), he built his first wagon and bicycle parts and, after much deliberation, decided that steam automobiles was the way of the future. The brothers took Francis's first car to the 1898 Boston Auto Show and the crowd found it to be quite impressive. They began producing custom-ordered steam cars and eventually began the Stanley Motor Carriage Company in 1902.
Power Correctly Generated, Correctly Controlled, Correctly Applied to the Rear Axle.
Colloquially, the vehicles were called Stanley Steamers, though they made several different models. Their initial business was great, despite the high cost. During 1898 and 1899, they produced and sold over 200 cars, which was more than any other U.S. automaker.
John Brisben Walker and Amzi L. Barber purchased the Stanley business in 1899 and managed the enterprise together for a few months. The brothers stayed on as consultants. Within a year, however, Walker and Barber split and formed two separate companies— the Locomobile Company of America and the Mobile Company of America, respectively. With the disintegration of their company, the Stanley bros started over again with new and improved designs.
Photographic rival George Eastman (of Eastman-Kodak) even purchased a Stanley. In 1904, the brothers sold Eastman the Stanley Dry Plate Company for $500,000.
The brothers sold the auto company again in 1917. The next year, Francis died in an automobile accident near Wenham, Massachusetts.
Freelan and Flora Stanley at the summit of Mt. Washington in a Stanley Motor Carriage
Stanley Hotel
In 1903, Freelan was once again stricken with tuberculosis. As was a customary treatment of the day, he and Flora headed west to take in the restorative air of the Colorado Rockies. They made their way to Estates Park and stayed in a primitive cabin for the course of the summer. Freelan's health greatly improved. Grateful for his recovery and impressed by the landscape, Stanley acquired property in Estates park and built a summer cottage. But the house wasn't enough: he wanted to turn Estates park into a resort town. In 1907, construction began on the Hotel Stanley.
The large Colonial Revival hotel opened on July 4, 1909. It was a modern marvel. Key features included a hydraulic elevator, electricity, running water, a telephone in every guest room and a fleet of specially-designed Stanley "Model Z" Mountain Wagons to bring guests from the train station.
For Freelan Stanley, the hotel was more of a hobby; in fact, he is said to have actually lost more money than he made each summer (the Hotel closed each winter). In 1926, he sold the hotel, but the venture failed. In 1929, he bought the property out of foreclosure and sold it again in 1930. Flora died in 1939 at their Colorado home. Freelan passed away a year later in Newton, Massachusetts.
But some say the Stanleys never checked out.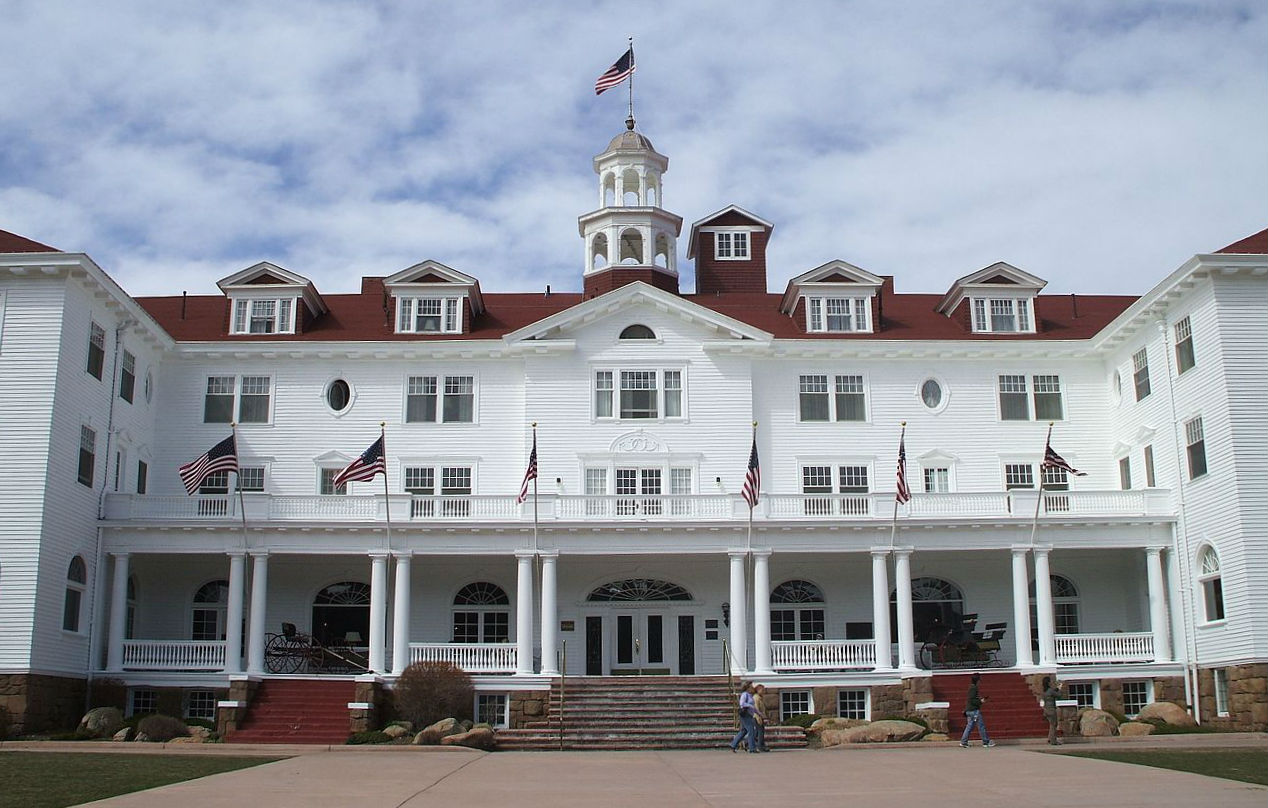 A Haunting in Colorado
Today the Stanley Hotel still stands and it— along with its surrounding structures— is on the National Register of Historic Places. The hotel is probably best known, however, as Stephen's King's inspiration for the infamous book (and later film and TV miniseries adaptions of the sane name), The Shining. In October of 1974, King and his wife checked into the Stanley Hotel as the only guests that night (the hotel was ready to close for the season). They checked into room 217 which was a supposedly haunted room. Their experiences in the hotel as the only guests, as well as a dream King had that night, inspired the novel:
That night I dreamed of my three-year-old son running through the corridors, looking back over his shoulder, eyes wide, screaming. He was being chased by a fire-hose. I woke up with a tremendous jerk, sweating all over, within an inch of falling out of bed. I got up, lit a cigarette, sat in a chair looking out the window at the Rockies, and by the time the cigarette was done, I had the bones of the book firmly set in my mind.
King's experiences and best-selling novel have helped to keep the memory (and structure) of the Stanley Hotel alive all these years later. The —hotel has actually become renowned by specialists and experts in paranormal investigation as one of the nation's most active sites. Freelan and Flora are both said to make appearances, running their hotel as if still alive. Flora's antique piano can sometimes be heard playing in the dead of night, and —Mr. Stanley has been captured in photographs.
The haunting of the Stanley Hotel was featured in —episode 10 of the podcast Lore, "Steam & Gas."
---
Sources:
https://en.wikipedia.org/wiki/Stanley_Motor_Carria...
https://en.wikipedia.org/wiki/Freelan_Oscar_Stanle...
https://en.wikipedia.org/wiki/Francis_Edgar_Stanle...
http://www.stanleyhotel.com/hauntedhistory
https://en.wikipedia.org/wiki/The_Stanley_Hotel