By Sarah Simonovich on Feb 27 2016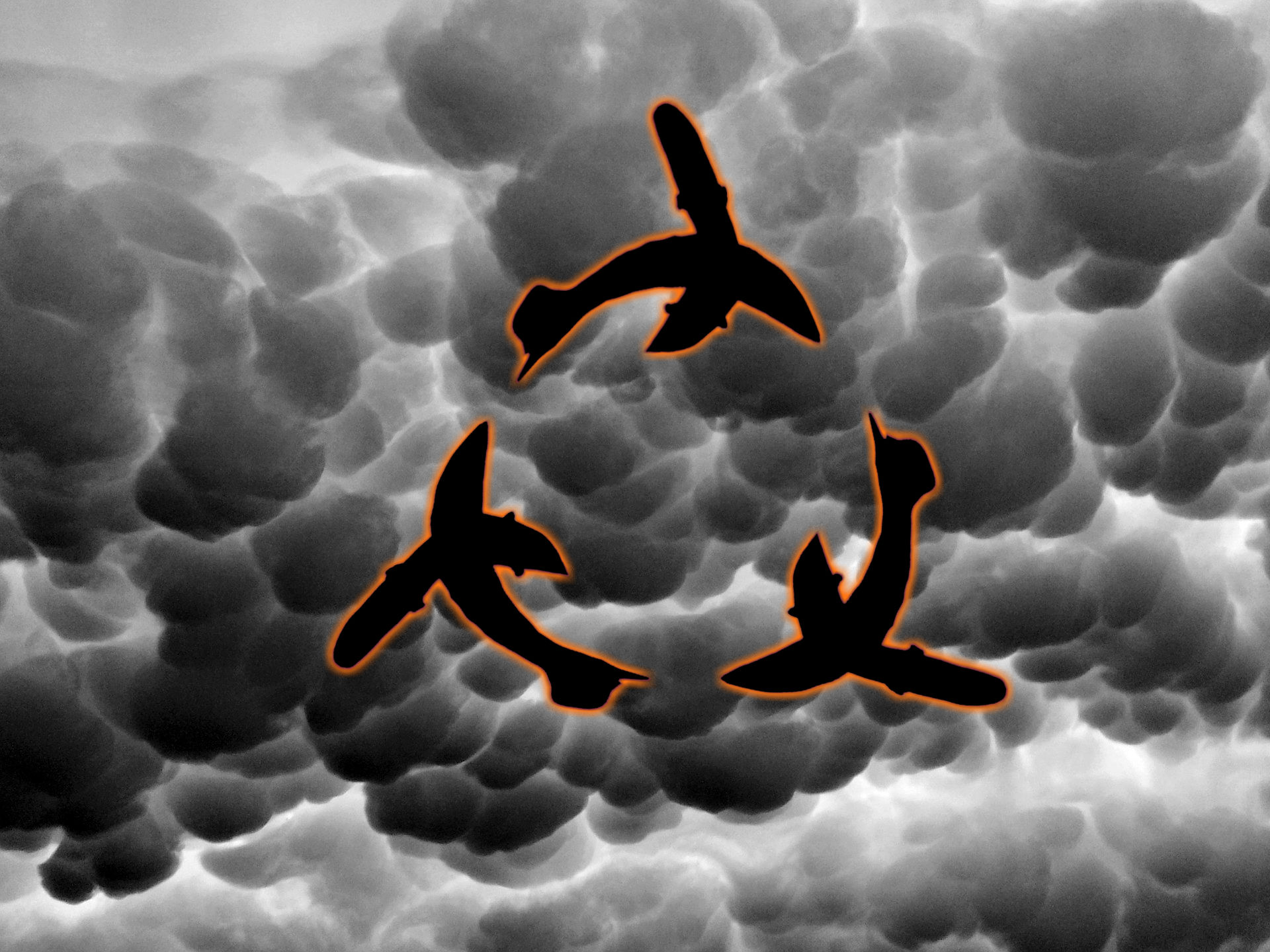 Reduce, Reuse, Recycle Planes
Aircraft innovation continues to trend throughout media outlets, whether it's the detachable cabin concept we talked about in this —post, or EasyJet's design for a hydrogen hybrid plane. Companies are continually working to design the most technologically advanced— yet economically feasible— planes possible. Whether it's with aim to increase safety, comfort, or fuel efficiency, new airplanes are definitely in right now.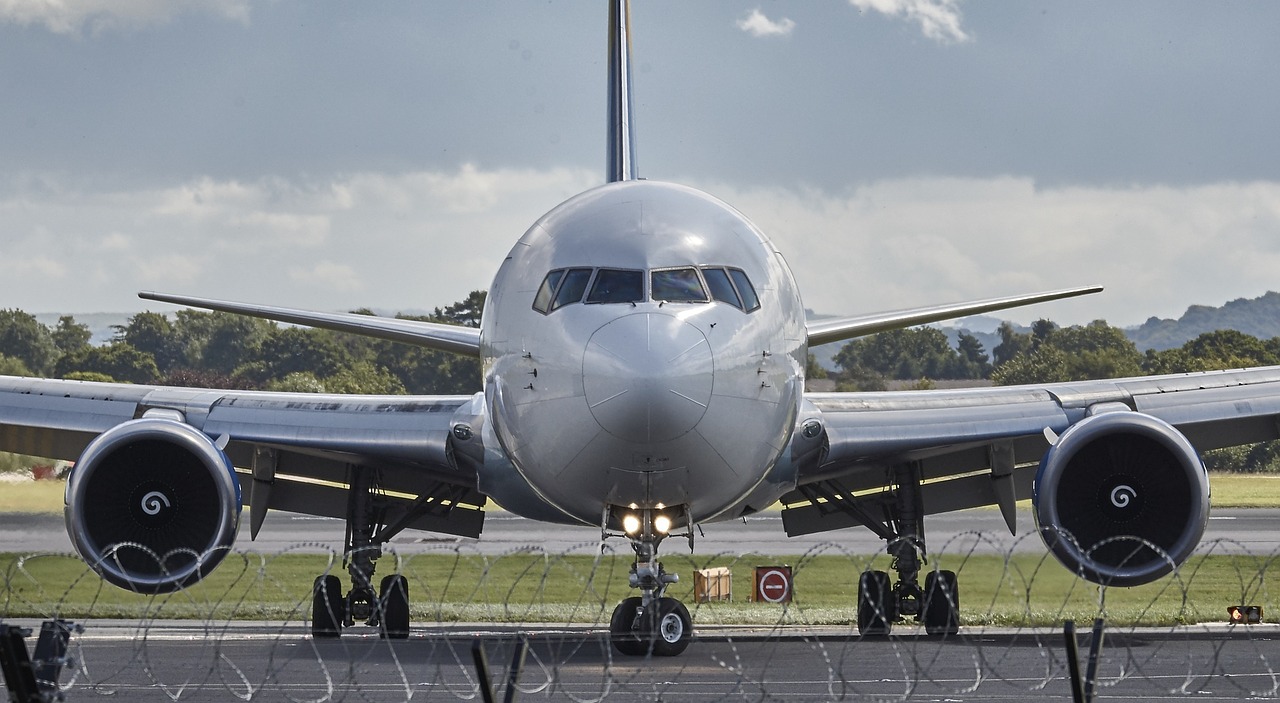 Within any closed system, there needs to be balance.
Within the system of aviation innovation, for every shining new plane that enters the work force, an older, slightly less-advanced plane is decommissioned. Aviation Week reported in April 2013 that within the next 20 years, approximately 12,000 aircrafts will be replaced in the global fleet as they reach the end of their service lives. 12,000 planes? This —begs the question:
Where do bad planes go when they die?
They certainly don't fly, that's for sure. Not the way they once did, anyway.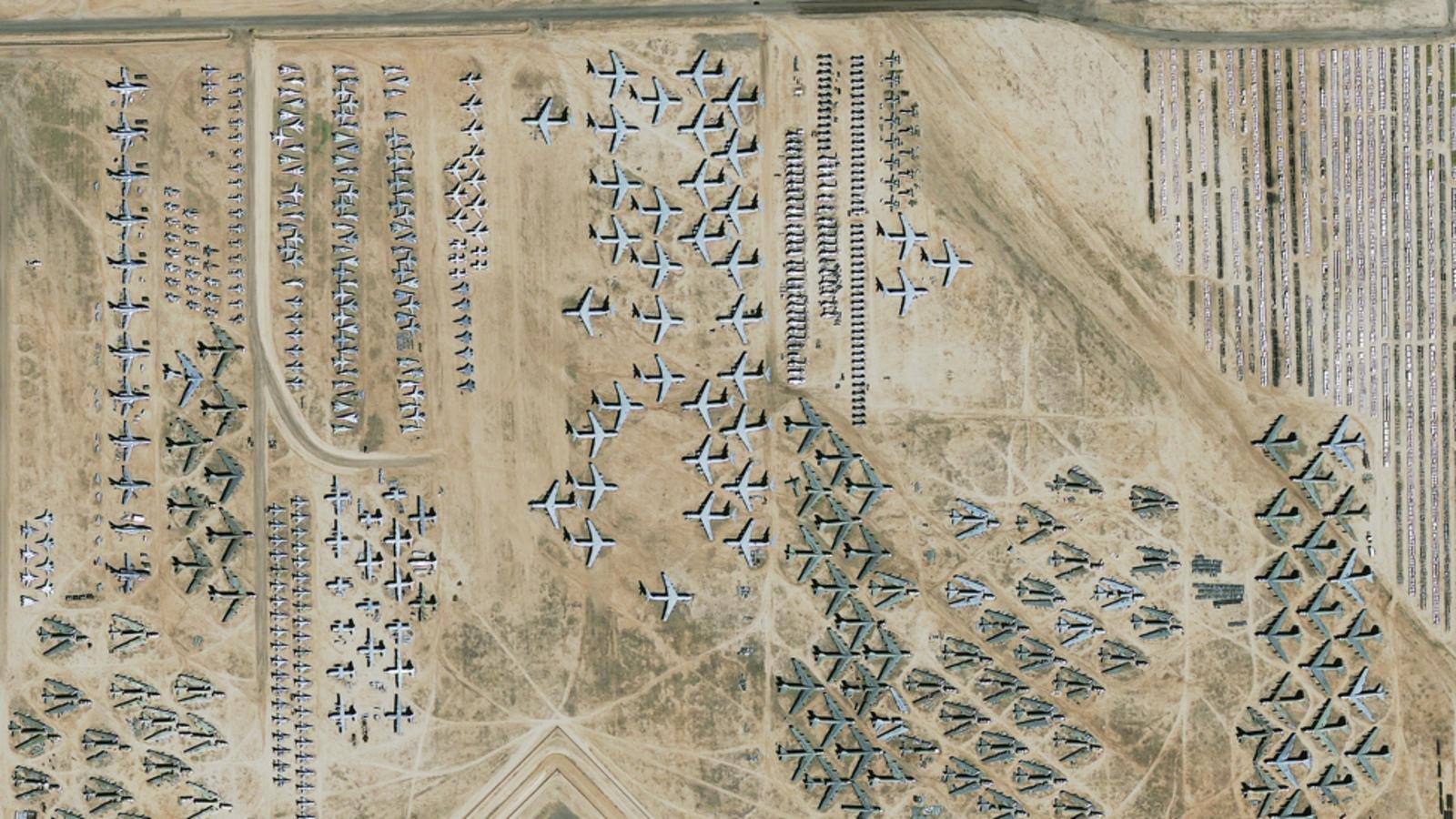 Davis-Monthan Air Force Base, also known as The Boneyard (source: BBC)
Martin Fraissignes, of Aircraft Fleet Recycling Association (AFRA), estimates that 2,000-3,000 aircraft have been abandoned around the world. Others are simply parked or dismantled.
With that 12,000 decommissioned plane probability, it's important to consider how best to deal with these planes, whether their parts are re-purposed or their materials recycled.
Here we have compiled some of the coolest re-purposing of decommissioned airplanes across the internet.
747 Wing House
David Hertz is an award-winning architect known for his interest and work in environmental design. One of his most striking works (among many) is his design for a residential home in Malibu, the project for which is titled —Wing House.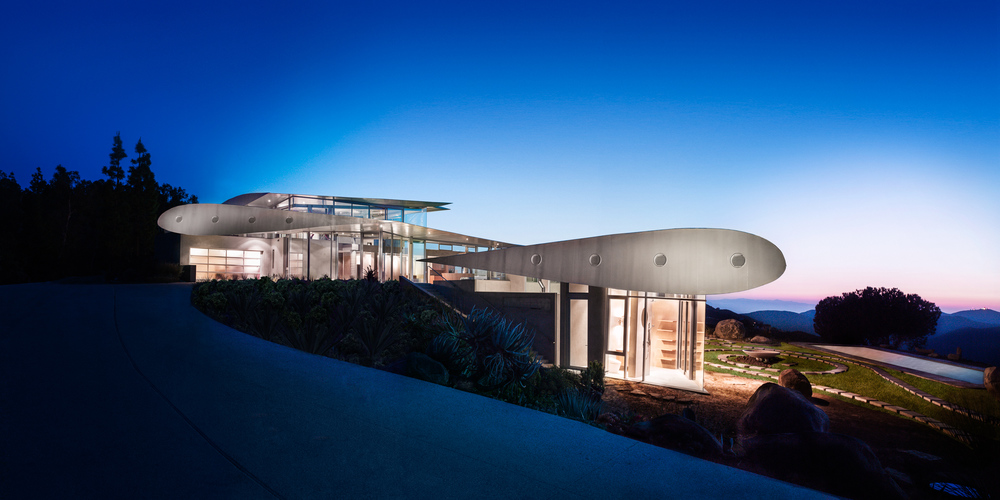 747 Wing House (davidhertzfaia.com)
The Wing House project exists on 55-acres in the remote hills of Malibu. Regarding the design:
In searching for inspiration, I imagined a roof structure that would allow for a un-obstructed view of the mountain range and distant views. The client, a woman, requested curvilinear/feminine shapes for the building. The progenitor of the building's form was envisioned as a floating curved roof. It soon became apparent, that in fact, an airplane wing itself could work.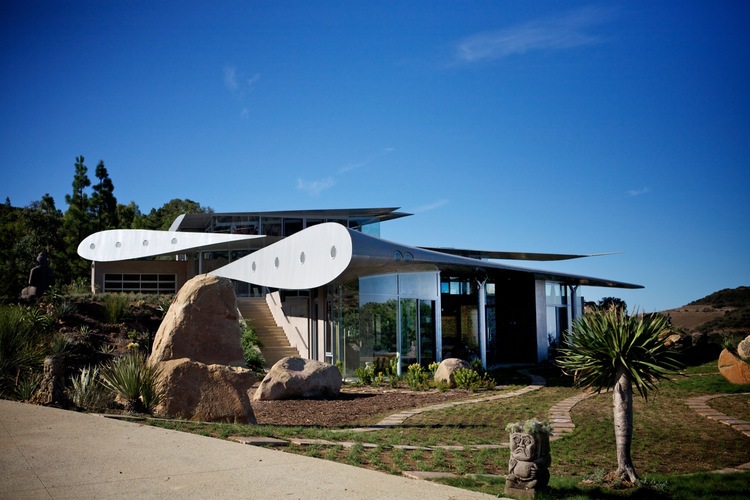 Wing House was completed in 2013 (davidhertzfaia.com)
Hertz purchased an entire decommissioned Boeing 747-200 aircraft with the intent to use as many components as possible into his design. In the end, an entire 747 was used to construct a main residence and 6 ancillary structures. In doing so, Hertz's design is environmentally sustainable because the material used is 100% post-consumer waste.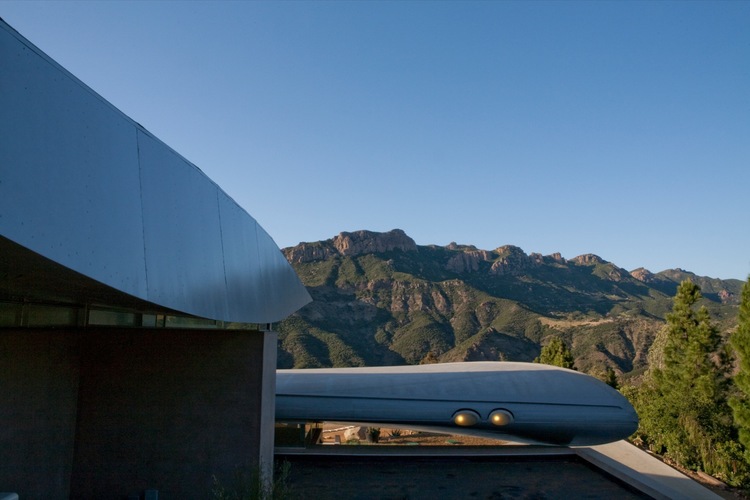 (Source davidhertzfaia.com)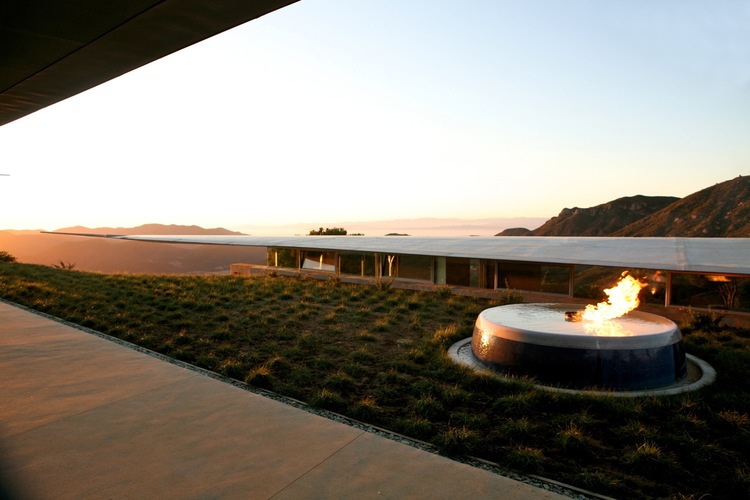 (Source davidhertzfaia.com)
727 Fuselage Home
If you've ever wanted to take a trip to Costa Rica, you might want to consider staying in Costa Verde's most exclusive suite. What's so special about this hotel suite? It's probably only one of a few opportunities you will ever have to sleep in an airplane in absolute comfort.
[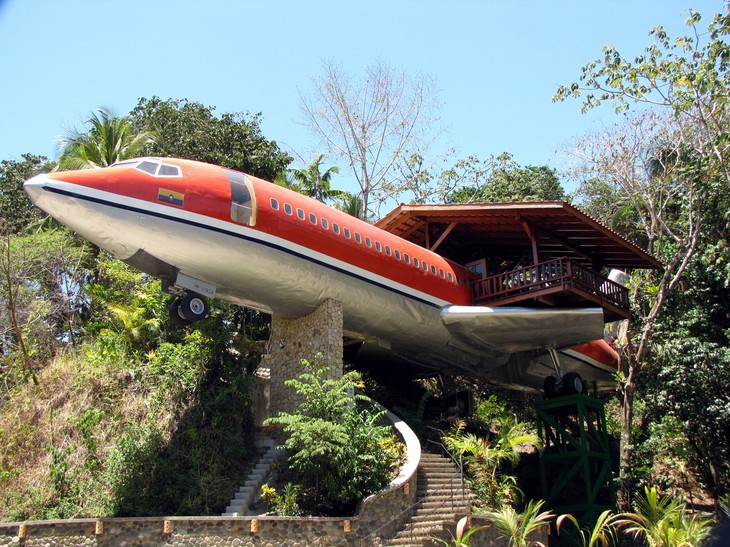 Costa Verde 727 Fuselage Home (Source: uniqhotels)
The hotel suite is literally a refurbished vintage Boeing 727 airframe perched on a 50-foot pedestal. The plane's entire interior was redone in Costa Rican Teak Paneling. Hand-carved furnishings, two air-conditioned bedrooms, and a 360-degree view of surrounding gardens are only a few of the highlights of partaking in this unique opportunity.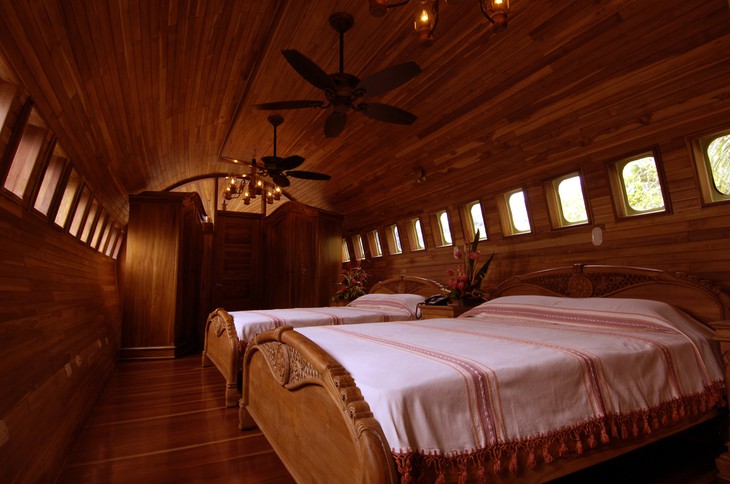 This 727 suite has two bedrooms with private baths (source: uniqhotels)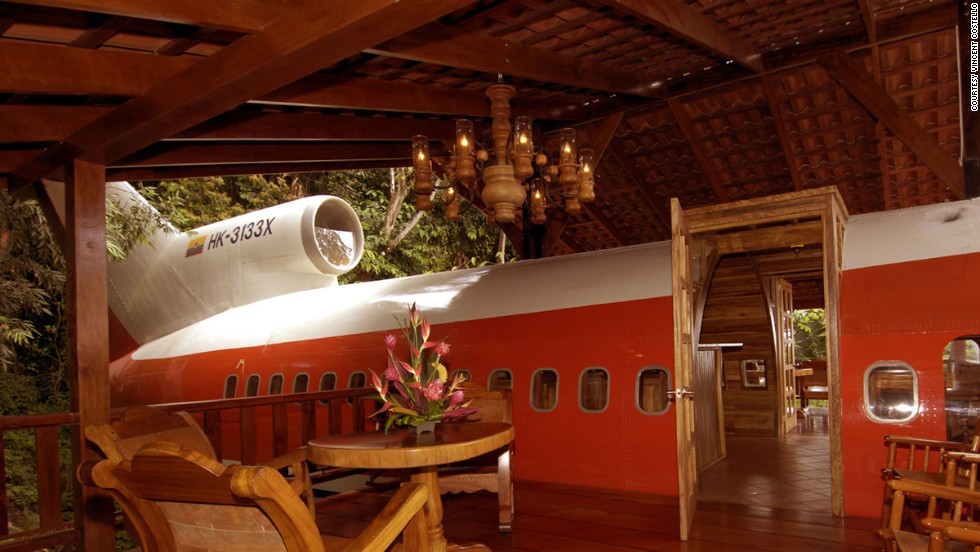 Two private balconies give this hotel suit extra space (via CNN)
Boeing 727-200
It's a bird— it's a plane— its's a house?
For Bruce Campbell, sleeping in a Boeing 727 is more than just a quirky way to spend a vacation: it's his home. If you happen to wander through the forests of Oregon, you might just stumble upon a grounded plane propped up on concrete pillars.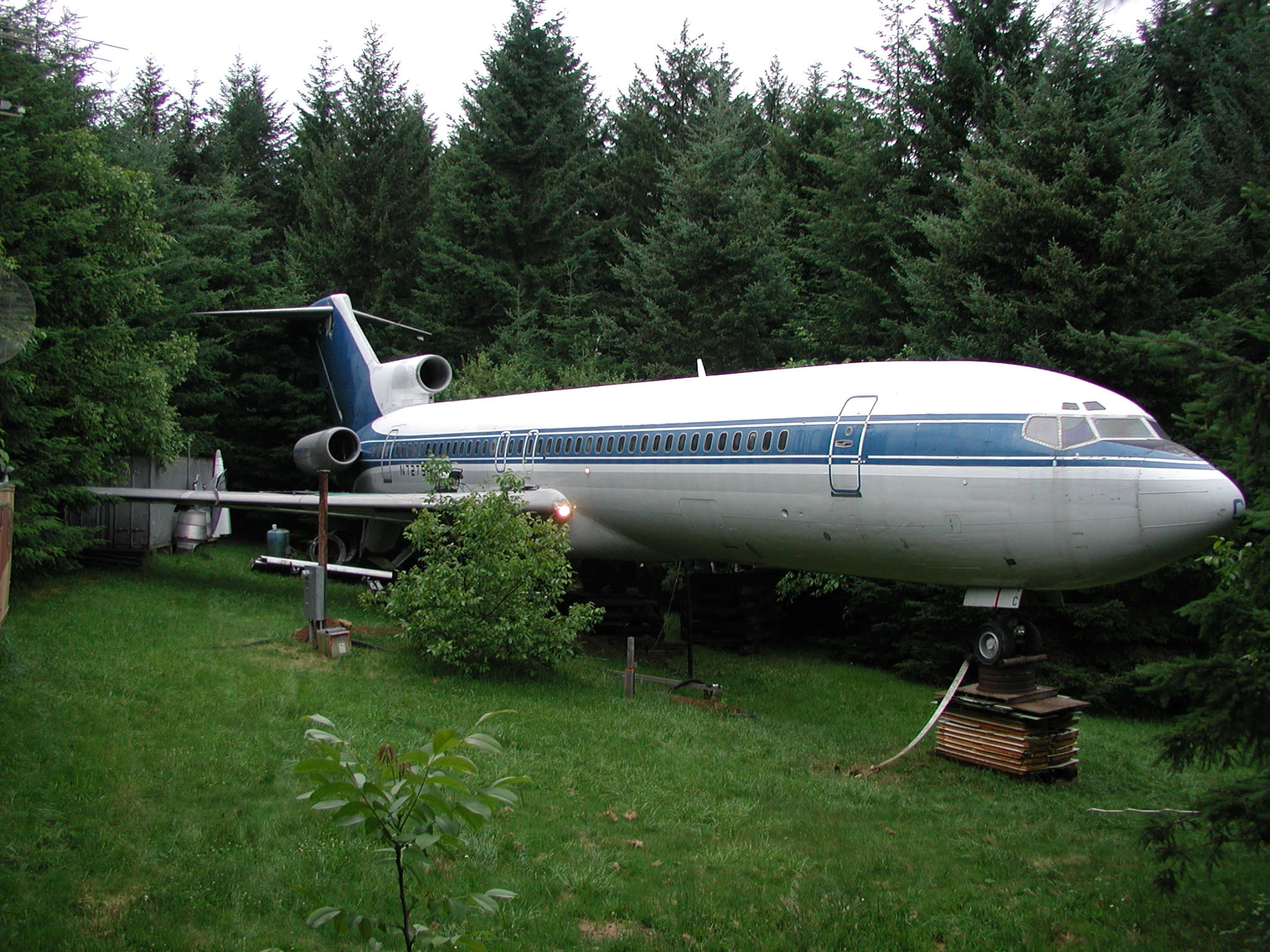 Campbell's home sits outside of Portland, Oregon (source: airplanehome)
Campbell has left much of the original plane intact, including the toilet (which he made usable), the cockpit (which functions as a reading room), and the original water tank.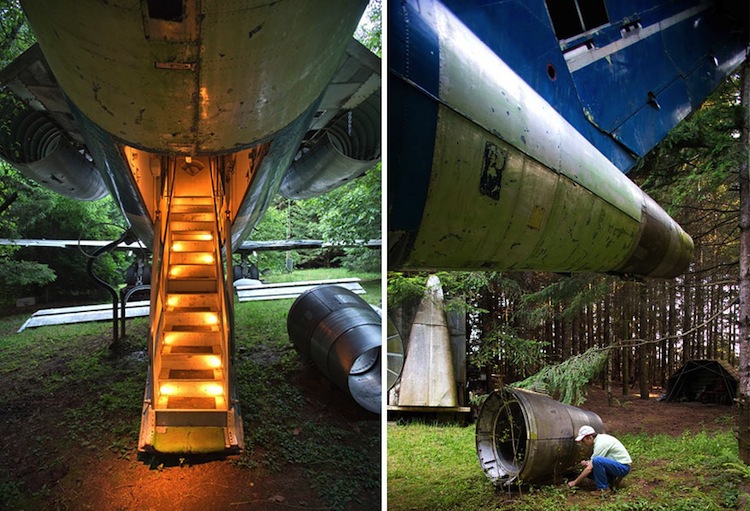 (Source: airplanehome via awesome inventions)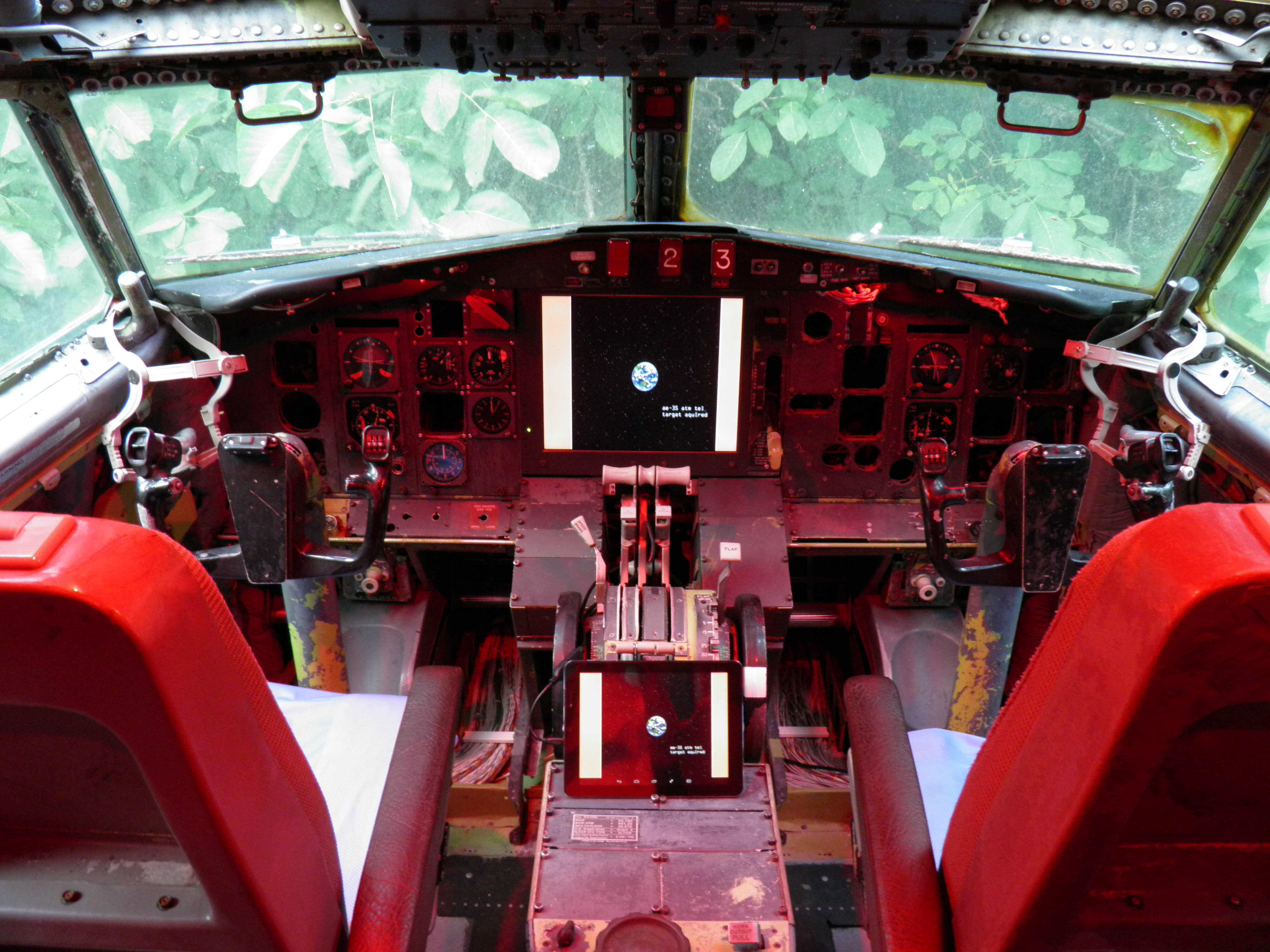 (Sourse: airplanehome)
Campbell has his own website which discusses his process and progress of turning this old plane into a functional home. Check it out here.
MotoArt
Based in Sounthern California, MotoArt is the pioneer of designing functional art out of decommissioned aircrafts. From Conference tables to sinks, desks, bookshelves, beds and more, the individuals behind MotoArt create a truly unique experience to interact with authentic airplane parts. This method of upcycling turns residents of airplane boneyards into beautiful and masterfully-crafted pieces of art.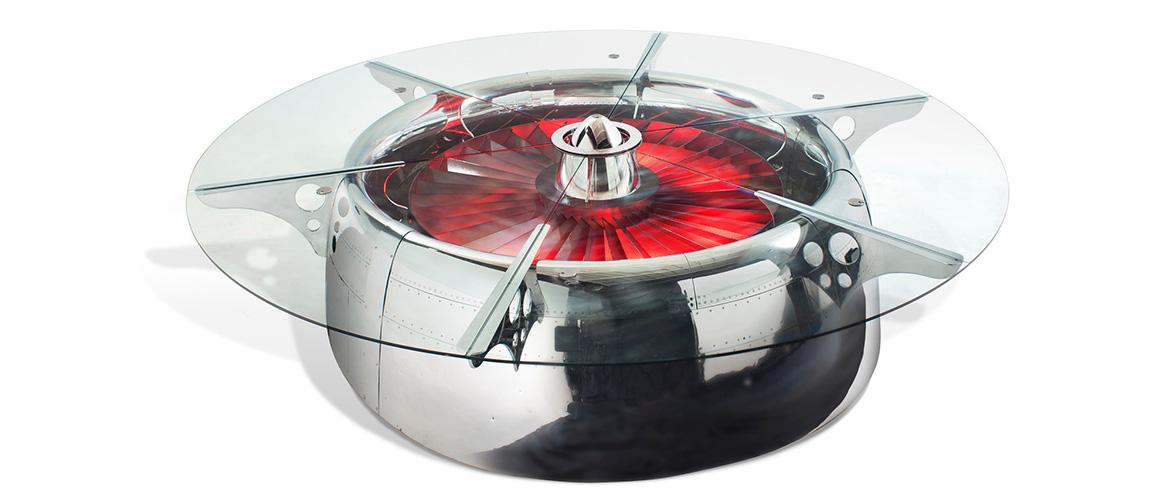 Boeing 747 Jumbo Jet Conference table (Source: MotoArt)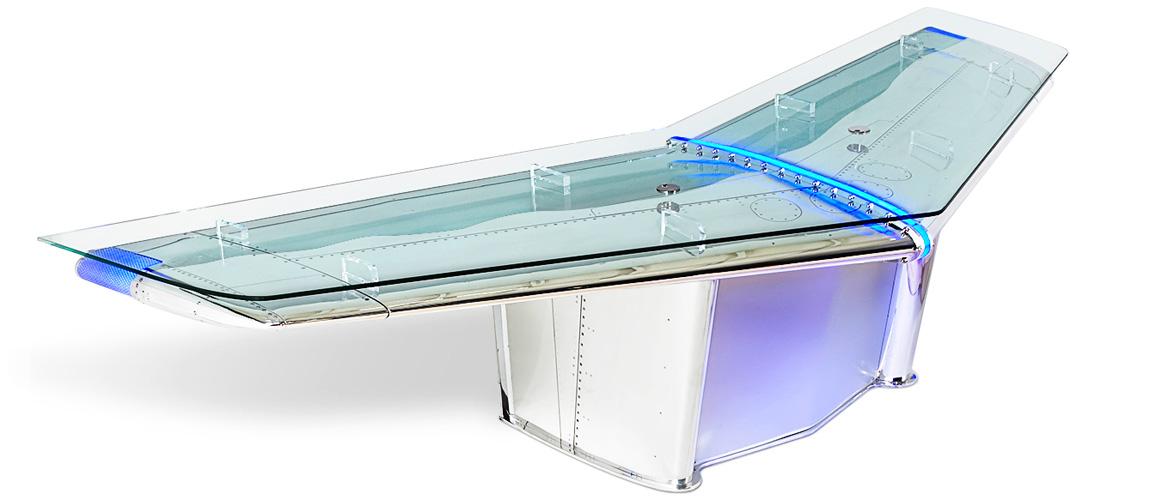 Custom Delta Wingman Desk (Source: MotoArt)
You can also own a much smaller chunk of aviation history with their line of Plane Tags cut from the authentic skin of specified commercial or military aircraft fuselage.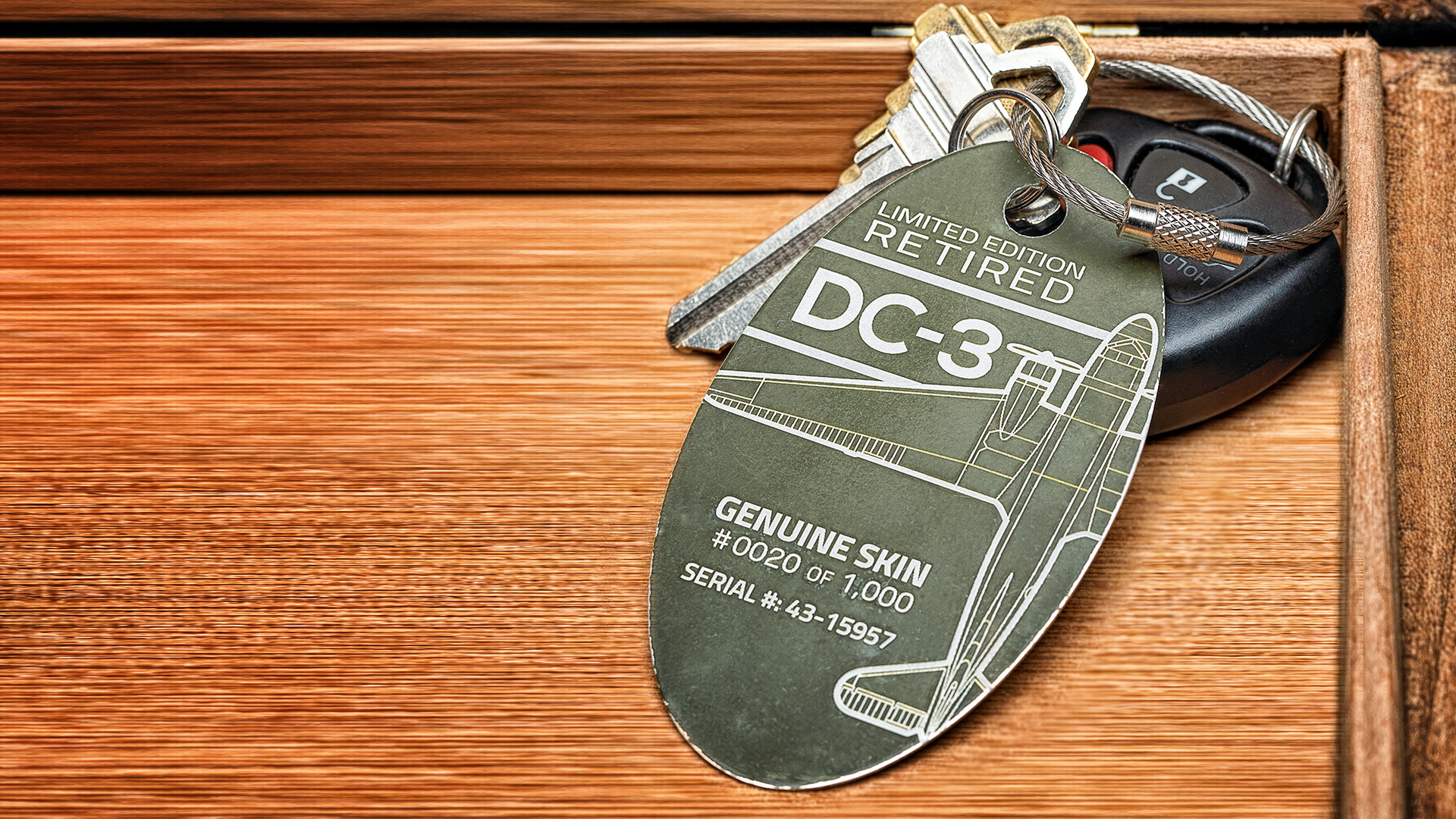 Plane tags can be used as key chains, luggage tags, or even dog tags (Source: Plane Tags)
This is only a fraction of some of the cool stuff happening around the world with decommissioned planes. While the rate of retired planes continues to increase, it becomes part of our job to find the most meaningful (and functional) ways to recycle these important (and expensive) aircrafts. Attempts to recycle planes helps both the environment and the preservation of aviation history.
---
References:
http://www.afraassociation.org/NewsDocs/13_April_Aviation%20Week.pdf
http://www.archdaily.com/165172/747-wing-house-david-hertz-architects/?es_p=1324201
http://www.costaverde.com/727.htm
http://www.awesomeinventions.com/boeing-727-conversion-home/